It's quite common to get asked "What is your work style?" in a job interview, so you need to be ready to answer it effectively.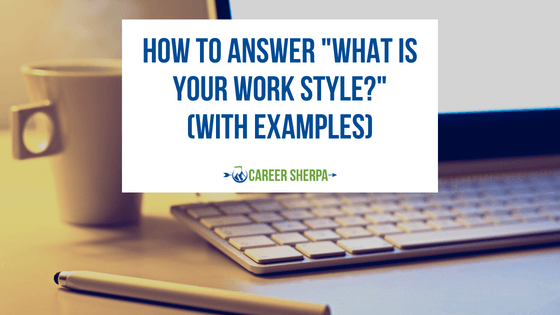 This guide will teach you how to prepare a response that shares the way you work, while also making interviewers eager to learn more about you as a candidate.
Why This Question Gets Asked in Job Interviews
Job interviews are a chance to show that you can fit into an existing work structure. Companies already established protocols and ways of working and the preference is to hire someone who is familiar with their work style.
"What is your work style?" is a question that helps hiring managers better understand whether you would be a good addition to the team. While it sounds vague, it provides a great deal of relevant information.
To answer it effectively, you must think about your own preferences as well as what qualities you believe are needed to succeed in this role. The way you answer unveils your thought processes and approach to challenges.
Different work environments call for varying work styles. What helps you succeed in one role may not apply to another, even if the job descriptions are similar. It's about fitting into the work culture and being willing to adapt.
Hiring managers want to bring people in who are can fill a role as seamlessly as possible. How you describe your work style will impact your place in the running and shape the interviewer's perspective on your candidacy.
How to Answer "What is Your Work Style?"
Delivering a solid answer isn't as straightforward as you might think.
Before heading to your interview, it's a good idea to research the company to learn as much as you can. Then, follow these tips to create a response that leaves a great impression.
1. Think About How You Like to Work
Answering "What is your work style?" is all about being self-aware. Many folks think they can adopt any work style and excel in every environment. But tolerating a work style is very different from thriving in it.
To succeed at any job, you must enjoy what you do and how you work. Take a moment and be honest with yourself to reflect on past job experiences. What situations did you enjoy most? What events are memorable for all the wrong reasons?
You must figure out your individual work style and what environment allows you to do your best. For example, you might realize that you don't gravitate toward collaborative work environments, and you prefer to work alone. That's a big moment of realization that matters during your job search.
Knowing your best work environment can make all the difference. Not only will it help you answer this question and describe your work style, but it'll help you talk about the type of employee you'll be. Plus it helps you identify companies that will provide you with the best environment to be successful.
2. Choose Some Relevant Professional Descriptors
One great way to answer this question is to utilize professional descriptors. These power words paint a picture of your work style and give interviewers a better idea of your qualities while still allowing your answer to be concise.
Think of your ideal work style and the environment it's suited for. For example, you can say that you're "independent" or "collaborative" in reference to how you work as part of a team.
It's also a good idea to go a little further and use powerful words in your answer to describe what role you like to play in collaborative environments. Good examples include "cooperative" if you like sharing responsibilities, or "supportive" if you're a manager that values looking out for their team.
And don't forget to mention that you're adaptable! While everyone has their preferred work style, leaning into your adaptability shows your willingness to mesh with the company culture and the way everyone operates.
3. Connect Your Answer to the Position You're Applying For
"What is your work style?" is an interview question that provides an excellent opportunity to remind the interviewer why you're a good fit for the job. In addition to discussing what's important to you, bring up how your work style can benefit the company. Here's where doing your research comes in handy.
Knowing everything you can about the organization and role will allow you to answer this question confidently. Look at the job description, check out the company site, and view social media accounts to better understand how employees work and the business operates.
Go back to the original job listing that compelled you to apply. Pay attention to the words it uses. There's a good chance that you'll find plenty of clues that can help you shape your answer.
Your goal is to connect the dots and show how your work style complements this company. Talk about the qualities you bring to the table. Linking your answer to the job makes it easy for hiring managers to envision you in the role.
4. Give Some Examples
Don't stop at providing high-level descriptions of your work style. While that's a great start, nothing beats real-world examples.
Providing examples of your work style in action helps interviewers see what you're capable of, and gives them a glimpse of how you would work if hired.
Reflect on your past work experiences and give an example of a time when your work style was beneficial. This will give you an opportunity to explain why you prefer to work that way and share why that approach has been successful.
5. Keep Your Answer Concise
And lastly, you need to keep your answer concise and to the point.
Keep it under two minutes, and consider using the STAR method. This interview technique can help you deliver impactful answers without sounding long-winded. It's an acronym that stands for situation, task, action, and result.
Concise answers are easier to remember and show you know how to communicate. "What is your work style?" is an interview question that's just one of many you'll have to answer. By being efficient with the amount of time it takes you to respond, you'll be able to make a great impression while keeping things moving.
What Not to Say When Giving Your Answer
There are many ways to leave a good impression with your response. However, you can also say the wrong thing, making your answer work against you.
Here are common mistakes you must avoid.
Overemphasizing Your Preferences
Everyone has a work style they like. And while understanding your preferences is important, you should always emphasize your adaptability.
No hiring manager wants to bring someone into the company who's too inflexible to adapt to a new work environment. You'll be hard-pressed to find a job that meets your ideal work style to a tee, so it's best to express your willingness to adapt.
This is especially true if you prefer to work solo. You can guarantee that every job you apply for will have some level of collaborative work. Being dead set on solitary work environments is usually a red flag for hiring managers.
Discussing your flexibility shows interviewers you're open to trying something new and can commit to making it work.
Being Too Vague
When talking about your preferred work style, you shouldn't be too vague. Rattling off general working conditions will fall flat without an example. This won't provide the information the interviewer is looking for, and will often leave them more puzzled about your potential than before.
Furthermore, this can also show a lack of preparation or self-awareness. If you can't answer this question, it shows that you might not be serious about getting the job!
Cliches
Avoid overused cliches as much as possible. "What is your work style?" isn't about saying something the interviewer wants to hear. It's about being honest while making yourself look like the ideal candidate.
Using too many cliches will work against you. It's fine to use some powerful descriptors like we mentioned earlier, but you must provide examples to back them up.
Example Answers
Everyone's response to this question is unique, and your approach depends on your true work style and experiences. However, it's always useful to get some inspiration to help you develop your answer.
These examples will help you figure out how to describe your work style in a way that impresses the interviewer.
Example 1
In our first example answer, we have a candidate interviewing for a marketing firm role. They have plenty of work experience and leverage their years in the industry to deliver a solid response. The candidate highlights their flexibility and provides great examples of that work style in action.
"I would describe my work style as flexible. It's something that I pride myself on. I don't mind working independently, but I also understand that collaboration is a substantial aspect of our industry.
Through my many years in marketing, I've worked on teams with varying dynamics. In my last job, I collaborated with a team of 16 people. But in the position I held before that, I predominantly worked alone and would contribute to projects as needed.
My ability to adapt has made a significant difference in my career. One example that comes to mind is a complex project I worked on for one of my former firm's biggest clients. It had many unexpected challenges and last-minute changes.
That resulted in constant shifts in team priorities. Despite the chaos, I adapted, reached out to colleagues with the skills necessary to assist, and delivered a successful final product. I enjoy working in environments that require flexibility, and I'm eager to put those skills to the test here."
Example 2
Our second example focuses on reliability. This is a work style that can be hit or miss to talk about during an interview. In some cases, it can come off as cliche or inauthentic.
However, this candidate delivers a strong answer that shows the interviewer why reliability in an employee is so important.
"The best way I can describe my workstyle is reliable. Reliability is something I value in my career. I've only missed a few work days in the last five years.
I understand that consistency and reliability are key, whether working independently or as part of a team. It requires you to pull your weight and constantly communicate with your team. That's something I believe is critical to success, and I always strive to be a reliable asset in any workplace situation.
In my previous job, we had an issue with deliverables that required immediate attention. Many project-critical files were lost in transit, making the deliverables incomplete. Fortunately, I save every version of a project as it inches toward completion.
I used those older versions to correct the issue and get the deliverables to our client. That's the level of reliability that I enjoy providing at work, and I'm excited to do that here for [COMPANY]."
Example 3
Our final example answer focuses on the collaborative side of their workplace style. However, they express their ability to adapt. This works because it doesn't overemphasize one type of culture and shows that the candidate is ready to tackle any challenge.
"My work style is usually collaborative, which is something that many people are surprised to hear given how I've operated the last several years. My last position was 100 percent remote. While it seems like the antithesis of direct collaboration, that experience taught me many valuable skills.
It showed me how to communicate effectively with others despite physical and cultural differences. I'm a great written communicator and deeply understand asynchronous communication.
That's something that also benefits me when I get to work with people in person. For example, my last employer asked me to visit the head office to help the team expand the remote operations. It was a great experience, and I collaborated with people who would communicate with other remote employees regularly.
I showed them my communication techniques and many of the strategies I employ ended up becoming the standard for remote and hybrid employees. I strongly believe that good communication translates well to any environment and will become an asset for me at this organization."
Conclusion
"What is your work style?" is an interview question that you need to be ready for. Not only is it a common question to be asked, but the way you answer will have a significant impact on your chance of getting hired.
Follow our recommendations, spend some time practicing your answer, and you'll shine when this question gets asked on the big day.
The post How To Answer "What Is Your Work Style?" (With Examples) appeared first on Career Sherpa.