The labor market changes. This isn't anything new. The majority of job seekers face the same challenges they've always faced. But the good news is, right now, there are lots of help and resources.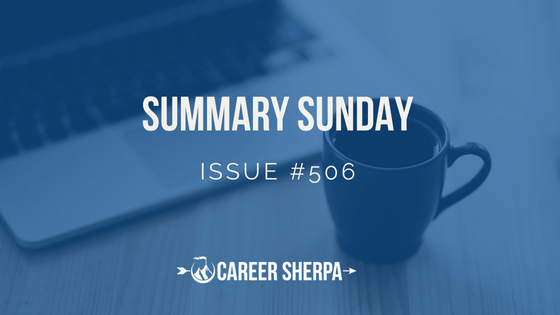 This week's Summary Sunday contains articles that will answer many of your job search questions and help you overcome some hurdles.
Job search Q&A
Out-of-the-box job search strategies
One-way video interview guide
Questions to ask external recruiters
Lists of free courses
Career advice for 2023
Signs your job is ending
Turn around a difficult situation with this question
Stability now more important than flexibility
How to share you've been laid off
If you find something helpful, please share it with those who would benefit!
JOB SEARCH
Layoffs Suck So Now What'¦ | Job Seeking Is Hard newsletter
Adam Karipiak answers reader questions and provides clarity and advice to help you on your employment journey. You'll find everything from how far back should your resume go, how to grow your network on LinkedIn and much much more!
Off-the-Beaten-Path Job Search Strategies that May Surprise You | Virginia Franco Resumes
While the three unusual job search tactics in this article may be uncomfortable, what do you have to lose in trying? Bonus: David Perry defines what is really meant by the hidden job market: 'œIt''s called the hidden job market, but this doesn''t mean that anyone is actively hiding jobs.' See three reasons a job isn't posted.
INTERVIEWING
One-Way Interview Guide: What You Need to Know | FlexJobs
Instead of a phone screen, your next "interaction" after you apply for a job may be an asynchronous interview. Understand what one-way interviews are, how they work, and tips to perform your best!
RECRUITERS
8 Questions You Should Ask Your Agency Recruiter | David Hannan
External, 3rd party or agency recruiters can be great sources of information. The next time you are contacted by a recruiter, consider asking these 8 questions (and what their answer will tell you).
FREE COURSES
One of the best things you can do if you are unemployed is to refresh your skills. It gives you something to talk about during job interviews, shows you are interested in your professional development AND just might make you more qualified for the jobs you are pursuing. Online courses don't have to cost a lot to be beneficial.
Finding a Job during Challenging Economic Times | LinkedIn Learning
At no cost to you, you can access these 13 courses on LinkedIn Learning. They address how to find a job, how to update your LinkedIn profile, resume writing, video interviewing, and how to stay motivated.
28+ Free Certifications to Add to Your Resume in 2023 | Jobscan
These free courses cover a variety of industries, including technology, business, marketing, science, and medicine. Think about what skills you want or need to develop and find a course!
CAREER
Career Success is Around the Corner '' Advice from 18 Top Experts | Wishing Well Coaching
Jessica Sweet shares answers to this question What prediction can you make that we can all look forward to or be hopeful about in 2023?A What actions will you take to regain control over your career?
Warning Signs That You Could Lose Your Job | Career Tool Belt
Are you watching for these 12 signs that might mean you are about to be let go or laid off? It's easy to dismiss some of them, so take ownership of your career and be on the lookout.
Can 1 question turn around a negative conversation? | SmartBrief Leadership
If you've ever been on the receiving end of a hostile, rude or inappropriate comment or rant, try responding this way! This article is a good reminder that we don't have to tolerate other people's stuff. Nor do we need to return the hostility.
WORKFORCE
Glad to be working: why job security outranks flexibility by nearly 3:1 | LinkedIn Workforce Confidence
In December 2022, 56% of respondents say that with today''s economic uncertainties, job stability is more important than flexibility. How quickly things change. And pay attention to the last paragraph:
"The key measure to watch: how many U.S. workforce participants have been out of a job for the uncomfortably long period of 3A½ to 6 months. As the Bureau of Labor Statistics recently reported, that total soared to 826,000 idled workers last month — up 57% from April 2022''s level."
LINKEDIN
How To Post About Your Layoff On LinkedIn | @Dan From HR
DID YOU MISS THESE
How To Answer 'œWhat Are You Passionate About?' (Examples)
23 Tough Interview Questions & How To Answer Them
The post Summary Sunday: Issue #506 appeared first on Career Sherpa.