Being able to write a good subject line for a job application email is crucial. The message you send and the strength of your resume won't matter if your email never gets opened!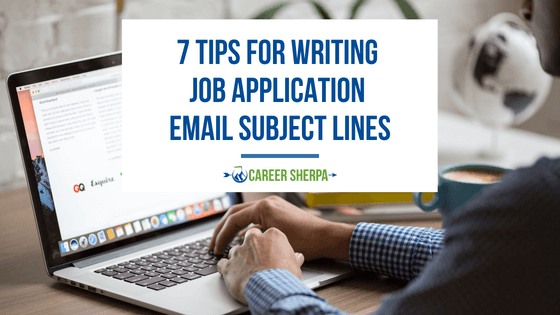 This guide will teach you how to craft an effective subject line when sending out these emails, and why it's important.
Why Subject Lines Matter
When you open your email inbox and start scanning your messages, what do you look at first? Next to the sender's address, your eyes will likely go straight to the subject line.
The entire point of a subject line is to give the reader a glimpse of what your message is all about. When sending in job application emails, a well-written subject line can be the difference between your application getting to the right person or ending up in the trash. It's a seemingly minor aspect of writing an email, and many of us are guilty of treating it like an afterthought.
But subject lines matter.
With spam and phishing schemes so prevalent, people are more careful when opening an email from an unknown address than ever. That includes managers, recruiters, and HR specialists.
If your subject line is weak or vague, they can assume it's junk mail. Sometimes, it might go straight to the spam folder, where the recipient can't see it!
Next to getting your job application email seen, a good subject line sets the stage for professionalism. This email is often one of the first acts of communication you have with the company. The person receiving the email may even have a role in hiring decisions, so a poorly written subject line won't do you any favors.
How to Write an Email Subject Line for Job Applications
Writing the subject line for a job application email seems easy enough, but these little blurbs pack a powerful punch. When emailing your resume to apply for a job you want to make sure it's received. Follow these tips, and your subject lines can help you stand out from the crowd and start the job hunt on the right foot.
1. Send from a Professional Email Address
While this tip technically isn't about the subject line, it has a similar impact. It's not the early 2000s anymore. If you're still using an email address with a funky nickname from your old chat room days, it's time to make a change.
Having a professional email address is a must. You can keep your old moniker for personal use, but ensure all your correspondence concerning job applications goes through a professional-looking email.
It can include your first and last name, initial and full last name, or any other appropriate combination. The email address should be easily identifiable to the recipient and have an undeniable connection to your name to ensure that it's not mistaken for junk mail.
2. Follow Instructions
It's common to see specific email instructions on job descriptions, and those aren't merely suggestions. In many cases, companies have a single email for job applications. However, they use subject lines to sort through the inbox and send emails to the appropriate person.
Make sure to read through the descriptions closely. If they provide instructions on how to craft your job application email subject line, follow them to the letter. Otherwise, your message might fall by the wayside.
Usually, instructions request a specific format or structure for the subject line. For example, it might tell you to provide your name, the position you're applying for, the department, etc. Whatever it is, do it!
3. Include Your Name
Adding your name to the subject line of your job application email is vital for a couple of reasons. First, it instantly identifies you and adds legitimacy to the message. Recipients are more likely to open it compared to ones with random subject lines. If you've had contact with the recipient at some point, it can also help create a connection.
Secondly, adding your name to the subject line makes it easier for the recipient to identify you and pass your name along if necessary. Sure, your name is likely in the body of your email. But putting it in the subject line allows the reader to identify you quickly without searching the application for your name.
It saves the reader time and makes it easier to put your name in the running as a possible job candidate.
4. Add Relevant Details
Here's another tip that makes it easier for whoever receives your email to pass it on to the right person. If you send your application to a catch-all corporate address, it will have to pass through many channels to get to the person responsible for hiring you. Adding relevant details to your job application email subject lines makes that easier.
What kinds of information should you include? If you know the hiring manager or HR representative, put their name down. It's also a good idea to provide information about the position you're interested in applying for, the location of the job, and any other detail that matters.
You can even mention experience. That information is also in your application, but if you have credentials that make you stand out, it's worth putting your best foot forward in the subject line.
5. Mention Referrals
Did someone refer you to this job? If so, mention their name in the subject line of your job application email. This goes a long way in building credibility and trust, It also captures the receiver's attention while letting them know you're likely a quality candidate.
It's a great way to get an upper leg on other candidates before anyone even gets to your application. A simple "referred by X" note in the subject line is enough to leave a positive impact. It may put you towards the top of the application pile, encouraging hiring decision-makers to pay more attention to your resume.
6. Be Mindful of Character Limits
You could cram a lot of information into the subject line, but it's wise to keep things fairly concise. The main goal of the subject line you write for your job application email is to give the recipient an idea of what the email is for and help a bit with sorting and forwarding.
That's it.
It's also worth keeping in mind that many people view emails on their smartphones and tablets. Unless they're checking their inbox on a massive screen, subject lines are often cut off after a certain number of characters. For most smartphones, that threshold is usually 25 to 35 characters.
A best practice is to keep the subject line to 50 characters or less if possible. If it has to be a little longer, make sure the most relevant information comes first. That way, the details that matter most are what recipients see.
7. Double Check Before You Send
As you'd expect, it's a good idea to proofread your subject line. Many people focus on the body of the email and forget to double-check the subject. That small text blurb is what recipients see first, so it must be error-free.
Read it aloud, run it through spelling and grammar checks, and ensure it's perfect before hitting that "send" button. You can even send a trial email to one of your other email addresses to see how it looks from the perspective of a recipient.
Subject Line Examples
There are a variety of subject lines for job application emails that you can use. Sometimes the format will be requested by the company, and other times you'll have the flexibility to write your own.
No matter what your situation is, what you end up with will likely resemble one of these examples below.
Application for marketing lead – John Smith
Job posting 5879: sales manager – Sarah Johnson
Job application – data analyst – Kara Brooks
Referred by John Smith – Peter Long – accounting assistant
Job application – Rebecca Khol – sales manager, Phoenix
Applying for marketing manager, Tucson, job ID: 1234
Job application – ID: 1234 – Jim Johnson
Referred by Kara Brooks for financial analyst role
Marketing lead application (referred by Susan Smith)
Managing director position – Kate Truman
Job ID: 1542 – marketing manager – Cody Johnson
Resume for social media manager – Jessica Shannon
Marketing director – Yvonne Ramos – B2B B2C experience
Communications director, New York – Brandon Cody
District manager application (referred by Kara Smith)
Common Mistakes
Writing a good subject line for your job application email can seem like a bonus, not a requirement. However, there are many ways to mess things up before you start the application process.
Avoid the following mistakes to ensure you don't get off to a bad start.
Not Including Enough Details
Vague subject lines like "Resume Attached" or "Job Application" aren't specific enough for recipients. While that may be the general purpose of your message, it tells the reader nothing about who you are, what the email is for, and why it matters.
It runs the risk of getting overlooked entirely. Someone might even see a generic subject line like this and assume it's spam, which means it won't get opened.
The subject line for your job application email should be unique and full of useful information, without being overly complicated or wordy.
Failing to Use Requested Subject Lines
If the job description mentions subject line instructions, you must follow them. Not only does it help with sorting and forwarding, but it shows that you know how to follow directions.
Failing to comply with a request as simple as a subject line could cost you an interview. Companies want detail-oriented people who can follow instructions, so don't make the mistake of ignoring those requests (even if you think you can come up with something catchy instead).
Closing Thoughts
As you can see, the subject line you write for your job application email goes a long way. The recipient might think you're the perfect fit for the role, but they need to open your email to find that out!
So the next time you find yourself being tempted to cut corners with your subject line, circle back to this guide. You'll be glad you did.
The post 7 Tips For Writing Job Application Email Subject Lines appeared first on Career Sherpa.