Figuring out when to start applying for jobs before graduation can seem a little tricky. Doing this too late will cause you to miss out on opportunities and doing it too early could result in you being removed from the running.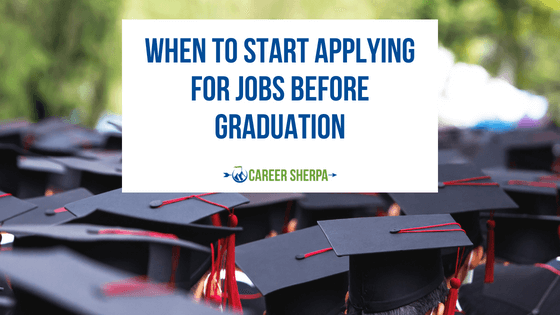 This guide will teach you when to start applying, and how to approach the process.
When to Start Applying for Jobs Before Graduation
Many students' final year of college focuses on real-world experience and networking. You may have regular conversations with a career advisor and use many of your school's resources to find opportunities. Internships and job-shadowing periods are common examples of this.
Ideally, you should leverage those experiences to forge relationships with companies. They can ultimately lead to job offers and help you learn about openings as they come.
But even if that doesn't happen, take full advantage of the resources available throughout your senior year of college. That includes job fairs, hiring events, volunteering opportunities, and networking events. They will all help you learn about career paths and can open doors.
It's wise to begin your job search as early as the fall and winter terms. You don't have to start sending applications that early–though you can if you find the perfect opening. Rather, use this time to focus on career research.
See what's available and research the industry you want to enter. Learn about companies you can work for, where you want to relocate, and what positions fit your qualifications. Then, consider what type of work environment and styles you prefer.
That information will come in handy as you research companies and explore work opportunities in your chosen field.
Generally, it's best practice to start applying for jobs before graduation no later than March. Start earlier if possible. Sending out applications around the start of the spring term provides ample time for you and potential employers.
It's still several months from graduation, but it's not so far off that hiring managers won't consider you. If you're lucky, you can get a job offer before you walk the stage on graduation day and be well on your way to starting your career!
What About MBA Grads?
If you're graduating with your Masters of Business Administration (MBA), you likely need to start applying sooner.
The jobs you'll apply for are more competitive than many entry-level positions those with Bachelor's degrees will pursue. MBAs qualify you for managerial roles and other upper-level functions within a company. Larger organizations go to great lengths to hire impressive MBA grads.
The hiring process may be longer and more involved, so it pays to start applying for jobs between November and January of your final year.
Some organizations do program hiring. These competitive training programs are common for accounting, banking, consulting, and more. Instead of standard internships, these programs recruit soon-to-be grads for intensive development.
The goal is to spend more time at a company before transitioning to a full-time capacity upon graduation. Waiting until a few months before graduating will result in you missing out on these opportunities, so start early!
The Advantage of Applying at the Right Time
While your final year of college can be busy, it pays to start your job search early. This is becoming a common practice for graduates in a variety of fields.
Here are some reasons why the right timing makes all the difference.
Get a Head Start to Save Time
Finding a suitable job isn't as cut and dry as it might seem. Applying to jobs before you graduate starts with months of filling out applications and completing interviews. Starting at the right time gives you a head start and minimizes the period of unemployment many people face after graduating.
In some instances, employers begin promoting jobs early to lock in their allotment of new college graduates who will start in the summer after graduation.
More Time to Prepare
A diploma alone isn't always enough to land an entry-level job. Because you have little to no work experience, hiring managers look for other qualifications to determine if you're the right fit.
By evaluating job postings early in your senior year, you may have enough time to add activities to your resume and make yourself a competitive applicant. Research what careers you want to pursue and what companies pique your interest. From there, you can look into what those jobs entail and what skills you'll need in order to excel.
Devoting your time to gaining experience, improving your skills, and preparing for the job you want always pays off. It makes you more competitive in the market and helps your resume stand out.
Avoid Post-Graduate Stress
Many people experience ever-increasing stress after graduating. There's mounting pressure to begin your career. And if you have student loans, you only have a finite grace period until you must start making payments.
This stress can force you to settle on a job you don't want. Opportunities dwindle the longer you wait, but applying for jobs before graduation can help you find more openings that align with your career goals.
Where You Can Find Jobs to Apply to Before Graduating
These days there are many places you can look to apply for jobs before graduating. Here are some of them.
Online Job Sites
The go-to for most graduates are job search websites. There are plenty of them available, and thousands of companies rely on these platforms to advertise openings. Sign up for several of them and utilize the tools available to narrow your search.
You can often send preliminary applications from these sites directly before uploading your resume. It's a quick and easy way to find opportunities.
Also, check with your career services office. Most career centers use Handshake or a similar job site to post jobs from alumni and companies that are interested in hiring new graduates.
Visit Corporate Sites
In addition to utilizing job board sites, companies often have a dedicated page on their website for openings. Visit the sites of companies you're interested in working for after you graduate and see what's available.
Don't forget to check social media, too. It's becoming increasingly common for organizations to advertise openings on Facebook, Twitter, and LinkedIn.
Use Your Network
If you're looking to apply for jobs before graduating, don't be afraid to use your network to your advantage. Reach out to individuals you know and see what's available.
Leveraging relationships, connections from an internship, or alumni who work in a field you are interested in can give you a significant advantage. There are many jobs you won't discover or learn about from job boards, and by talking to people you know, you are likely to uncover job opportunities.
Job Fairs and Hiring Events
Many universities organize job fairs. During these events, representatives from several businesses will visit the school and promote opportunities. These events are incredibly valuable.
Not only can you learn about openings, but you can meet hiring managers and employees before you apply. They're valuable networking events that can pay off substantially in the future.
How to Get Ready for the Process
Applying for jobs before graduation can feel a bit overwhelming. You have little experience under your belt and don't have your diploma in hand just yet. But don't let those worries prevent you from getting a kickstart on your professional career.
Follow these tips to prepare for the job search and maximize your chances of landing your dream position.
Think About Your Career Goals
Before you apply to a single job, you need to understand your career goals. Your education prepared you for a specific field, but you can easily branch out and explore positions you never considered.
Take a moment to think about what you want to do, where you want to go, and where you hope this first job will take you. You don't need to figure everything out at once. But having an idea of your preferred career makes all the difference.
Use your goals as a guide to discover opportunities that fit into your ideal professional storyline.
Polish Your Resume & Cover Letter
Create your resume and a standout cover letter if you haven't already.
Your resume is the single most important document you'll use during your job search. It's not something you should take lightly. You might already have an old resume, but you must update it to ensure it includes your recent accomplishments and packs a punch with hiring managers.
Invest time into crafting the perfect resume that highlights your skills, qualifications, and aspirations. Work with your school's career advisor for guidance and attend any available resume-building classes.
Generally, it's wise to slightly customize this document to adapt for every company and job you apply to during your search. But before you can do that, you must have a powerful core resume on hand.
Set Up Your LinkedIn Profile
These days, hiring managers use more than job applications to find candidates. LinkedIn is a powerful social media network geared towards working professionals. Recruiters use it all the time to find potential new hires, and companies refer to candidate profiles to better understand an applicant's qualifications.
Create your profile and start making connections. Follow companies that interest you, reach out to those who work there, and start building your network. And don't forget to search for and connect with alumni too. This will make it far easier to start applying for jobs before graduation.
You never know what opportunities will come from LinkedIn, but you can bet that it'll play a part in your job search to some degree. Having a complete and robust profile can help you stand out and impress potential employers.
Clean Up Your Social Media Accounts
Here's an important tip you must remember. It's common for hiring managers to go beyond your resume and LinkedIn to learn about you. Many will turn to social media profiles.
If that thought makes you instantly panic, you need to go in and do a deep clean.
Remove all potentially offensive or controversial content. Ensure that there are no compromising photos or unprofessional posts from your college and high school years. Questionable content will make companies rethink extending an offer. The last thing you want is for old photos to haunt your future career.
You don't have to delete your account. However, it's a good idea to privatize anything remotely off-putting to employers. Don't stop at Facebook, Twitter, or Instagram. Comb through your entire social media presence.
Do Mock Interviews & Prepare for Common Questions
Lastly, prepare yourself for the hiring process.
As mentioned earlier, it can take months to get a job offer. You might go through countless interviews before getting an offer. Practicing common interview questions is the best way to optimize your time as a job-seeker.
You can never know exactly what an interviewer will ask, but there are several questions you'll hear over and over. Interviewers want to learn about who you are and what you have to bring to the table.
Expect questions about your education, experience, and career goals. You can also expect to hear questions about strengths, weaknesses, and work habits. The wording may be different, but you'll be surprised by how many commonly asked questions will come up.
Do your research and have answers prepared. When you know what you want to say and what points you hope to hit, it helps you sound confident and prepared.
Take things a step further and do mock interviews. Have friends or your university career services staff ask you questions to simulate the interview environment. Better yet, see what mock interview resources your school offers.
Preparation makes all the difference, and you can get used to the stress to ensure you sound confident with every response.
Conclusion
As you can see, knowing when to start applying for jobs before graduation is incredibly helpful. Not only will the timing maximize the number of opportunities you get, but you'll be able to plan out how to prepare.
The post When To Start Applying For Jobs Before Graduation (2023) appeared first on Career Sherpa.