Everyone has a professional presence. The question is, do you have a good one? As a professional, your reputation is as important as your skills and experience. Your professional presence is your reputation, what people think when you walk into a room. Developing good professional presence is essential for success. No matter what industry you're in, good professional presence can open the door to new opportunities and pave the way for raises and promotions.
---
We recently asked our successful executives what defines good professional presence.
Here are their responses…
Michael Willis, Sports Business Operations Executive
[embedded content]
The three main ingredients in any executive presence are:
Confidence
Clarity
Credibility
Confidence – The most shining part of executive presence is gravitas—how you act. It means that you show up as inspiring, trustworthy, and capable.
From the start, you must show that you have substance and authority in your talents, knowledge, and skills.
Leaders with gravitas show grace under fire. They are great at handling adversity with a cool head, letting others know that any crisis can be taken.
Clarity – People with poise have a way of talking that transparently engages people.
Executives who have complete command over the goals that need to be reached can communicate and break down elements of the tasks into step-by-step instructions.
Leaders who can communicate effectively develop a personal brand for delivering information.
Credibility – Is the quality of being trusted and believable. In working in the sports business, credibility is paramount.
If fans lose confidence that the games are unfair and non-equitable, the NFL loses the core part of the business—the game.
Michael Willis has 18+ years of experience working with accounting & sports organizations and has managed P&Ls of $10M – $125M+ with budgets of $3M-$50M+. He worked for the NFL for 22 1/2 years, mainly with the game officials working on the financial/accounting side of the business.
Maria Grandone, Director In Higher Education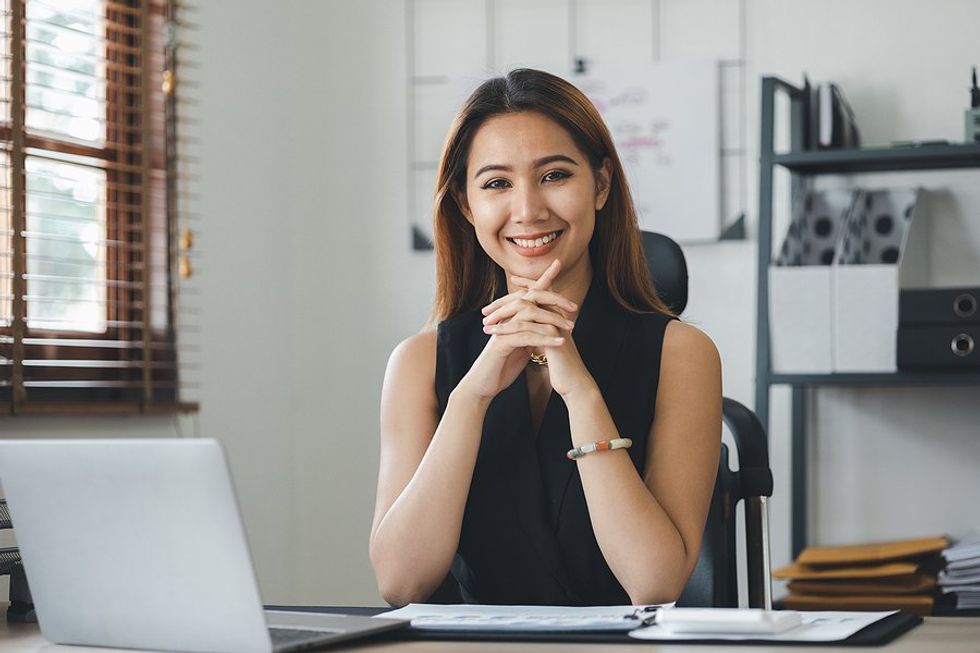 Image from Bigstock
Good professional presence requires good personal skills that can help you succeed in your career as well as your personal life.
Be present – living a life of purpose one must be intentional, passionate, and connected and show that you care.
Be open to learning – lifelong learners are eager to learn to advance their skills, try new things, and even learn from their mistakes. Failing forward develops your character—failing 100 times and getting up 200 times is key.
Positive attitude – helps facilitate a good work environment and can inspire others to feel the same. This can-do attitude helps others positively contribute to innovation and find solution-oriented opportunities.
I believe you give 100+ percent. Show up, engage, collaborate, and connect with the team. In higher education, it is critical to model the way and inspire a vision that allows for success.
Maria Grandone is dedicated to student access and success, particularly of underrepresented students in higher education. She loves to wake up early to meditate, go for an early morning run, and meet people from all walks of life.
Kathleen Duffy, Founder, CEO, And President Of Duffy Group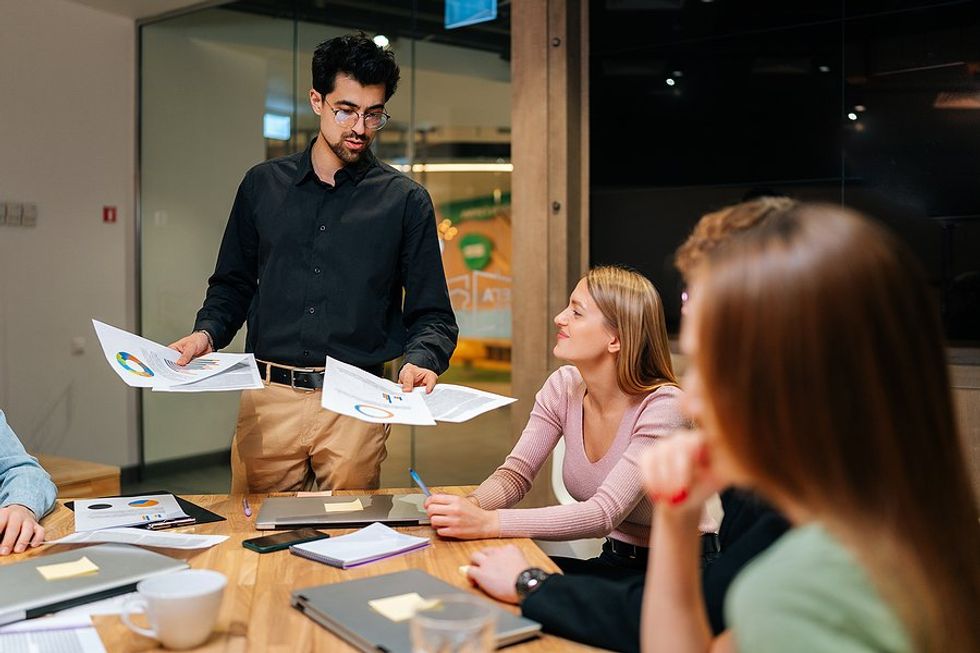 Image from Bigstock
A professional presence is your image, your mission, your passion, your values, and your vision. It's not a logo, a resume, or a profile on LinkedIn or other social media channels. It's the story of how you solve problems and improve morale or service vs. your credentials—degree or job title.
Developing a strong professional presence can help showcase who you are—your skills, expertise, and passion. It provides a platform for you to establish credibility, helps you inspire and succeed, and establishes you as a thought leader in your field.
There are a few key tenets to keep in mind:
Be authentic, representing exactly who you are.
Be compelling, so people will want to take notice.
Be consistent across all channels of communication.
Be transparent—no secrets.
And be visible. After all, what good is a strong professional presence if nobody can find you?
Kathleen Duffy is the founder, CEO, and president of Duffy Group. The company's vision is to elevate recruitment research as an alternative to contingent and retained search. Since its founding, Duffy Group has been a remote workplace and a culture of work/life harmony.
Sharon Grace, Executive Recruiter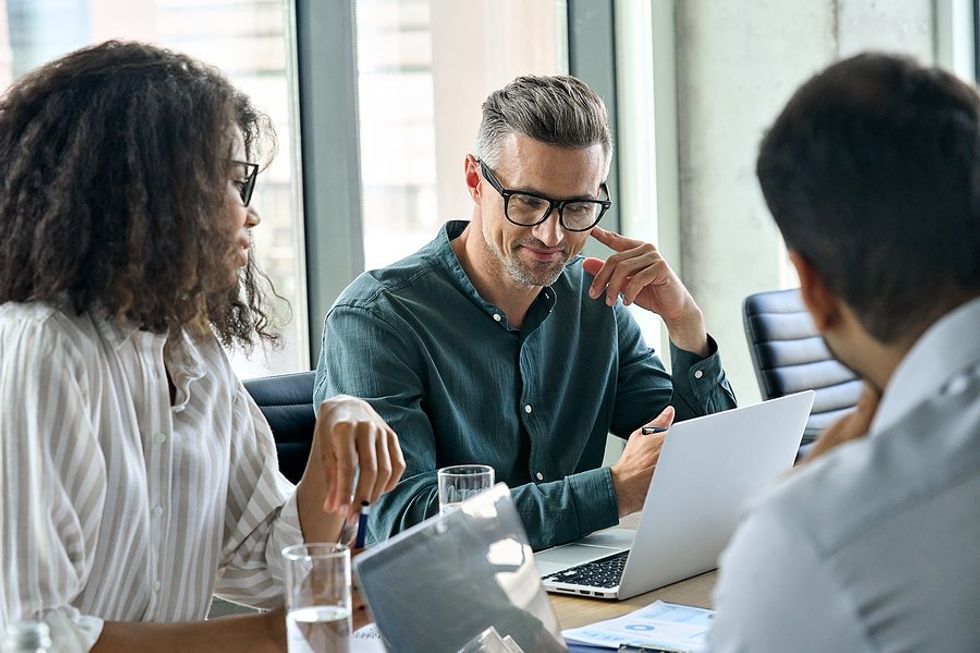 Image from Bigstock
As a seasoned executive recruiter, I have advised many hiring executives and candidates on their image. Professional presence includes feeling and looking your best, embracing a positive mindset, communicating effectively, and being likable. It would help if you gave people reasons to want to meet with you and build a relationship. I suggest six tips when improving one's professional presence.
Take care of yourself. The benefits of practicing good health and wellness are endless. Being mindful of good health keeps our stress levels low and our energy, focus, and positivity high. When you feel good, you look good.
Be present, engaged, and actively listening. Showing up and being intentional is not always easy. Having the right mindset will help you perform better. Be an active listener with a curious attitude to learning.
Be prepared. An action plan with the desired outcome is a time investment well spent.
Communicate thoughtfully, clearly, and effectively. Clear is kind, and being direct, upfront, and honest is essential. Practice being engaged with those you speak with, and do not meet for the sake of meeting; make it a valuable experience.
Speak in the way you want to be heard. Think before speaking and be in the right mindset. Know your audience.
Look good and take an interest in your appearance. Dressing appropriately is always in style, and never forget to know who your audience is.
Sharon Grace is a veteran search executive who helps hiring leaders hire great people because of her proven track record as a strategic partner and advisor to recruit, identify and assess talent.
Kathryn Marshburn, Music Program Manager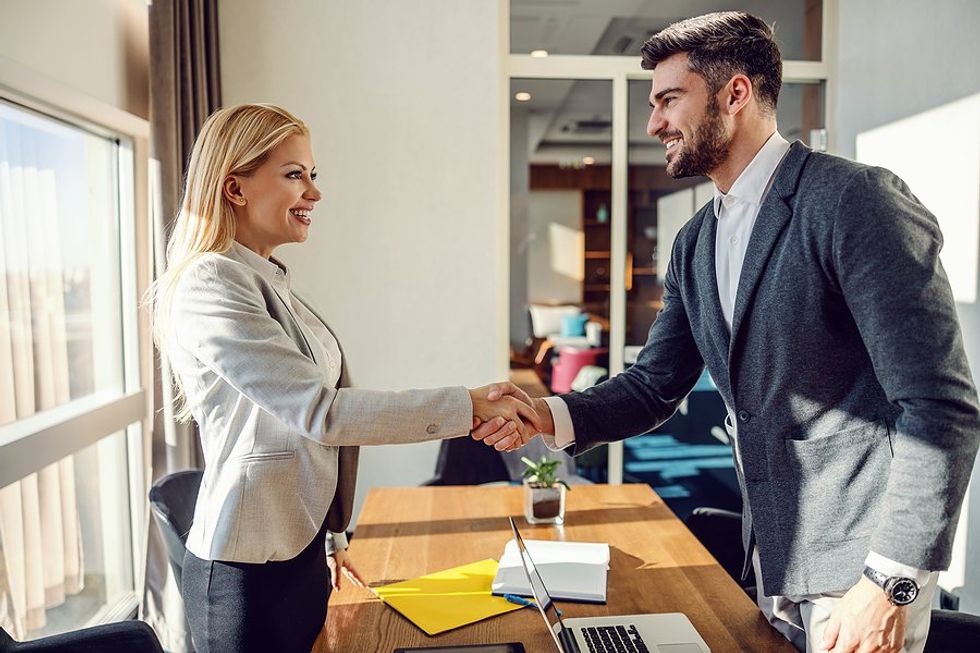 Image from Bigstock
Professional presence in the music industry is different than other industries. As a female executive in the music industry, earning respect is essential and requires putting in the time with teams that are highly sought after and in demand.
Professional presence starts with social media checks and ends with teams liking you.
Many times, just showing up is crucial because the teams, artists, and bands that connect with you personally provide roadmaps to other connections. That said, a few basics that are important include:
Always have exceptional phone manners when receiving invites and say less and listen more.
Show up in appropriate fashion for the moment. (Studios, events, and carpet opportunities require completely different looks.)
Humble, humble, humble would be the word for the night. Be grateful that you are in attendance and thank the host.
Be professional. Do not take pictures or videos when not invited. Keep all time spent as a professional in an invited space.
Do not overindulge in any substance.
If I love a project or something I want to do, I don't do it for money. I do it because I love it. If the budget isn't there, I'll make it work for me and throughout my career. I think that's been a consistent theme. I hear all day long that peers will turn down jobs because the money is not right. Some people will throw away opportunities because of the pay. That's just not how I do business as so many opportunities happen from just being in the room.
To be invited into successful circles, your presence is important no matter what industry you are in, and making sure that you are providing an attractive, positive image is always on trend.
Kathryn Marshburn has spent 12+ years in the music and gaming industries guiding teams on identifying targeted goals with an agile approach resulting in driving revenue and reducing risk.
Ana Smith, Talent Architect & Global Learning Strategist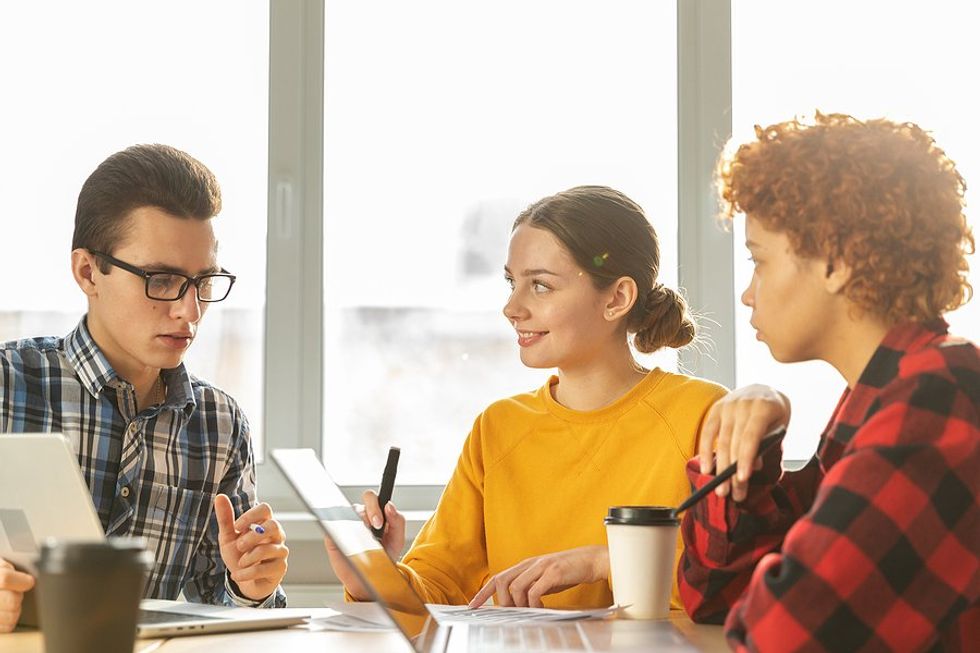 Image from Bigstock
​According to multiple surveys, over 60% of organizations that hire coaches say executive presence is one of the two top purposes for their coaching. Companies see this skill's value and want their leaders to lead with a strong presence!
So, if it is so critical, what is it? It is defined in different ways for sure, depending on who you ask, yet the definition that I typically go to combines:
Character
Personality
Credibility
And these probably include a wide variety of possible combinations which generate a successful "executive presence." The result is a leader who can command the attention of a room and immediately draw you into their vision and who is set apart from others, allowing you to establish a reputation of respect and knowledge.
Companies and leaders may already know that executive presence is important, but it isn't a skill that comes naturally for a lot of people.
It takes some time to develop and refine.
So, the most important question is, how can you develop it yourself?
Be self-aware and spend time with other executives you admire. By studying yourself and others, you can train yourself through hard work and discipline.
Inspire your direct reports through clarity and intentional communication, taking the initiative and being a role model for them by keeping a journal, etc. Writing down your goals, plans, and priorities can also help you better understand your emotions and encourage regular self-reflection!
Build relationships, which helps you to connect with others and build trust. By building strong relationships with colleagues, clients (internal and external), and other key stakeholders, you can establish yourself as a leader who is approachable and respected.
Create AND share a clear, compelling vision. One of the most inspiring forms of executive presence is to inspire and share a compelling vision for others to see and follow.
Build trust across different stakeholder groups (i.e., direct reports, peers, next level up, etc.) by keeping your work, and taking the necessary time to build and earn trust.
Building executive presence is probably one of the most complicated things to do in leadership development, therefore don't forget to get a coach, a mentor, and several peers who will be willing to support your development as you will support theirs!
Ana Smith helps people & organizations achieve their full talent potential by developing and co-creating people strategies and customized solutions, and turning them into impactful outcomes and collaborative relationships, using coaching as the "red thread."
Marshall Martin, Director Of Operations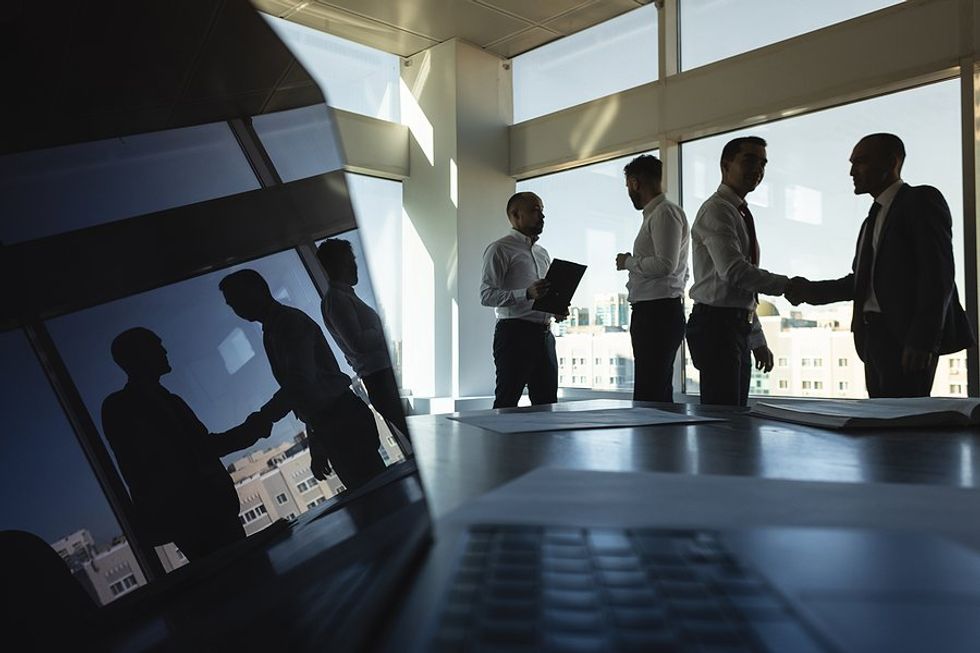 Image from Bigstock
Developing a good professional presence is crucial for success in any industry. It is not just about having the right skills and knowledge, but also about presenting oneself in a positive and effective manner. Good professional presence is defined by a combination of qualities, such as:
Passion is the driving force behind a person or organization's work and is essential in creating a positive impact. It exudes optimism and a can-do attitude.
Integrity is fundamental in demonstrating honesty, ethical behavior, and trustworthiness. It is essential for building trust and credibility with colleagues and clients alike.
Generosity involves giving back to others and contributing to the community. Whether through sharing knowledge or supporting others with our time, talents, and treasure, generosity fosters strong and healthy relationships.
Gratitude is recognizing and expressing appreciation for others' contributions. It contributes to creating a positive work culture.
Authenticity is being true to oneself and one's values, maintaining a sense of transparency and honesty in all interactions.
Overall, good professional presence requires intentional effort and self-awareness. By embodying these qualities, individuals can establish themselves as respected and trusted leaders, achieving success and making a positive impact on those around them.
Marshall Martin is a former executive with start-up/entrepreneurial and large multi-national organizations with 20+ years of experience in the delivery of sales, finance, and operations management. His mission is to be a servant leader that connects, creates, and builds innovative ideas and solutions.
Percy Leon, Digital Media Content Executive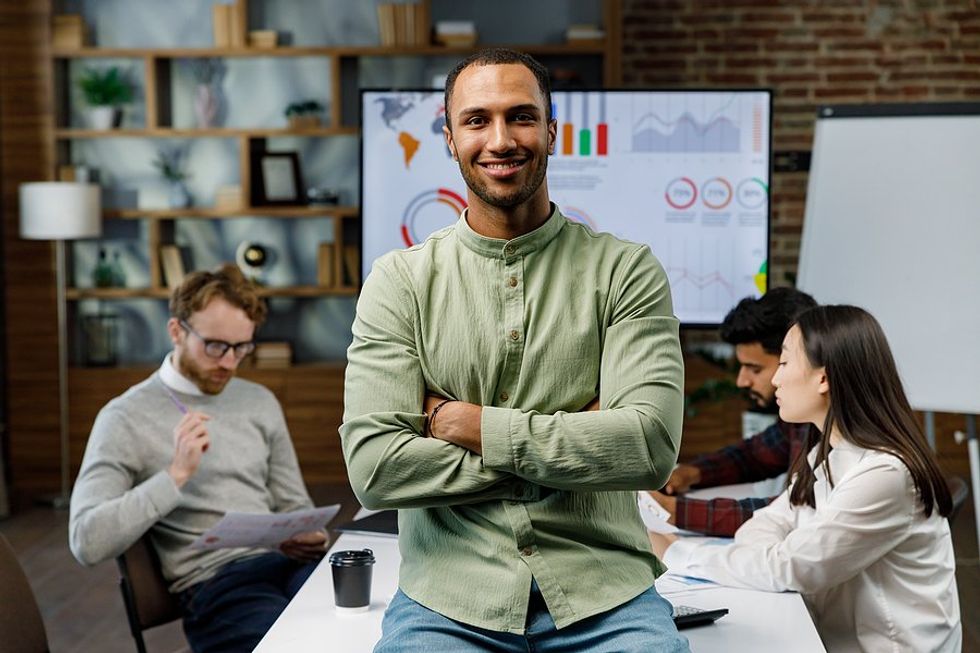 ​Image from Bigstock
​In today's competitive business world, having a good professional presence is essential for success. Here are some key characteristics that I feel contribute to a strong professional presence:
Confidence: A good professional presence is characterized by confidence. This means having the self-assurance to speak up, take risks, and make decisions. When you exude confidence, others will be more likely to trust and respect you.
Communication skills: Communication is an essential part of building a strong professional presence. This includes not only speaking clearly and articulately but also being a good listener and able to communicate effectively in writing.
Professionalism: Professionalism is another key characteristic of a good professional presence. This means being reliable, respectful, and trustworthy in your interactions with others. It also means dressing appropriately for the situation and being punctual.
Emotional intelligence: Emotional intelligence is the ability to understand and manage your own emotions and those of others. This is essential for building strong relationships with colleagues and clients.
Competence: Finally, a good professional presence is characterized by competence. This means having the skills and knowledge necessary to do your job well and being willing to learn and adapt as needed.
A good professional presence is a combination of confidence, communication skills, professionalism, emotional intelligence, and competence.
By focusing on developing these characteristics, you can build a strong professional presence that will help you in your career.
Percy Leon is a digital media content producer specializing in educational technology and entertainment. He is interested in web3, metaverse, and the use of virtual reality for storytelling.
Lisa Perry, Global Marketing Executive
Image from Bigstock
I didn't know much about professional presence until about 2 ½ years ago when I met J.T. O'Donnell. I took her in-depth course on executive presence and learned that it's about what people see when they come in contact with us. It's our ability to project gravitas, confidence, competence, poise under pressure, decisiveness, speaking skills, assertiveness, and the ability to read an audience or situation, among other key characteristics. It enables us to build trust, establish credibility, and accelerate outcomes and results. What defines good executive presence is a personal journey and requires work. And that's what I've been doing over the last several years. I did a deep dive into four areas:
Understand My Strengths, Weaknesses, Talents, & Biases
Explore How Peers, Colleagues, Subordinates, & Leaders Perceive Me
Develop An Action Plan To Enhance Executive Presence
Create A Measurement Plan
This process was very enlightening, helping me understand where I was undervaluing myself based on feedback from those who have worked with me. As a result, over the last year, I've been able to turn around my executive presence based on the action plan I put together, helping me become a more effective leader, build stronger relationships with others, and achieve greater success at work.
Lisa Perry helps companies build leadership brands, driving loyal customers & delivering profitability. She does this through a process that builds brands consumers love. Her goal is to help companies develop, monetize, and grow their brands.
John Hoffman, Creative Producer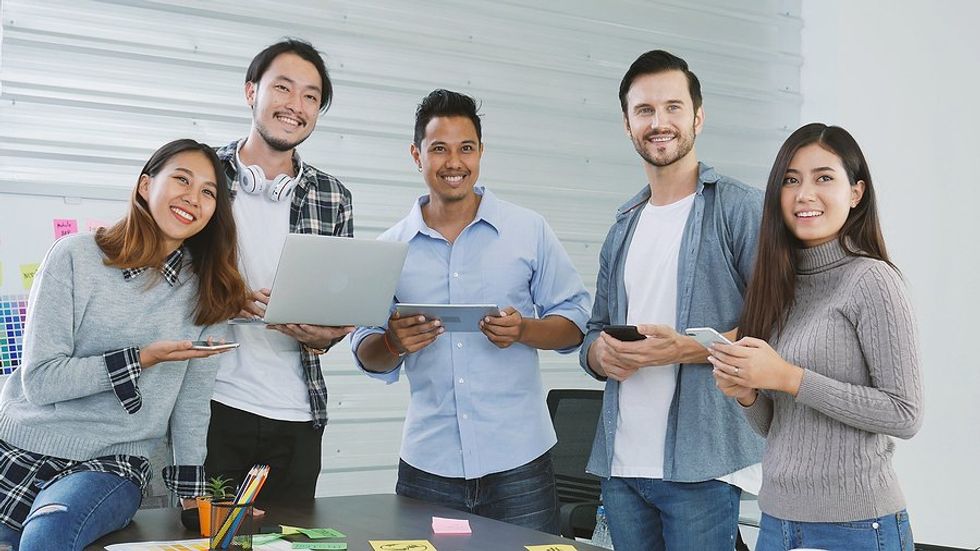 ​Image from Bigstock
An excellent professional presence is essential for anyone, especially those starting a career path.
It begins with credibility, being present, paying attention, and inspiring confidence in your colleagues.
To build credibility, focus on four simple aspects:
Competence – the ability to do something successfully.
Communication – transfer information succinctly.
Integrity – do what you say, say what you do.
Preparedness – be ready.
Always be willing to learn and improve by asking questions, stepping out of your comfort zone, and being open to feedback. Stay positive, avoid negative language, and have fun. Taking yourself too seriously can be detrimental to your professional presence, so remember to keep it simple and enjoy the journey.
In closing, pay attention to the positive and ask yourself if your actions are helping or harming the task. Then, do these things and develop a professional presence to set you up for success.
John Hoffman has 15+ years of leadership experience creating and producing video content, branded entertainment, PR stunts, and experiential and live events. At his core, he's a storyteller who has mastered the creative map and can scale logistical mountains.
What do you think defines good professional presence? Join the conversation inside Work It Daily's Executive Program.
From Your Site Articles
Related Articles Around the Web