There is more information at your fingertips today than ever before. This can be a good thing or a bad thing. When you are experiencing a career change for the first time, it can feel overwhelming to search the internet for answers.
That's why I curate articles and share them in Summary Sunday.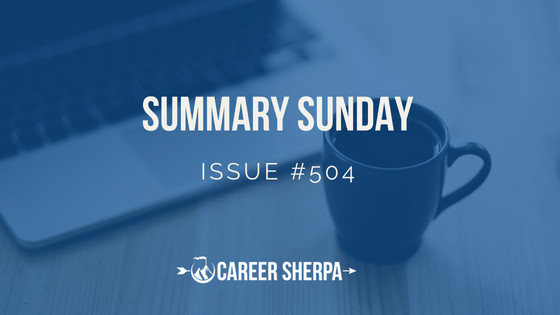 To help you sift through the noise and feeling of overwhelm when it comes to job search advice, I carefully and thoughtfully share articles from people and resources I trust.
In this week's Summary Sunday, you'll find information that will help you better execute your job search:
Job search tracking tool
Job search advice
ChatGPT for job search
Pay range tracker
How recruiters get paid
Adjusting after a turn in your career
Do This. Not That: Career
Best Companies lists
6 leadership traits needed today
If you like any of these articles, follow the author's site or follow them on LinkedIn (or other social media channels). If you want to sign up to get Summary Sunday delivered to your inbox, click here.
Or you can share this with those you think would benefit!
JOB SEARCH
How to Track Your Job Applications | Use THIS Instead of a Spreadsheet | Teal
If you are overwhelmed by tracking the status of each application, who you've spoken to, when you're supposed to follow up with recruiters, and what resume goes with what role, then you are going to want to watch this. This video runs through how to use Teal to track your job search. Then install the FREE Teal Chrome extension to simplify and speed up your job search: https://tealhq.co/3S5dAB0
Top 10 Job Search Blog Posts | Katrina Kibben
This collection of articles written by Katrina addresses some of the most common yet perplexing job search challenges like, what jobs to apply to, how to find the right job title and more. (I've known Katrina since she worked at Monster and her insights are spot on!)
How to Use ChatGPT for Your Job Search | Avid Careerist
Donna Svei explains how to use ChatGPT at all stages of your job search, from conducting research to writing resumes and answering interview questions. You'll see that ChatGPT is not foolproof. It may be just a tad better than googling, and as such, you need to use some of your critical thinking skills.
It is a great solution for identifying alternative job titles and lists of target companies!
SALARY INFORMATION
Pay Range Tracker | Comprehensive.io
See pay ranges for tech talent in California and NYC from job postings. This site was recently created by Roger Lee, the creator of Layoffs.fyi. The data is aggregated from the career pages of 700 tech employers. Thanks to Kelli Hrivnak for sharing this on LinkedIn. Be sure to adjust for cost of living in your city.
RECRUITERS
Do you know how recruiters get paid? | Sarah Johnston on LinkedIn
This offers clarity to those who are confused by how internal and external recruiters get paid.
PS: they don't work for you, they work for the company that hires them.
CAREER
When Your Career Takes an Unexpected Turn: What to do when your career hits a bump in the road | Career Toolbelt
Whether you have been laid off, you're ready to resign or you need career clarity, this issue has valuable resources and information that show you want to do next.
Jenny Foss (aka JobJenny) Launches New Book | Jenny Foss
See Jenny's announcement and learn more about her book, Do This. Not That: Career here.
It addresses 81 common career scenarios from a toxic boss or co-worker to how to get a promotion. It's a skimmable reference guide, not necessarily a book you read cover to cover. And what makes it extra helpful is the subsection entitled "Say This" so you'll know how to convey what you want.
COMPANY LISTS
Best Places To Work 2023 | Glassdoor
The new list of Best Places to Work (rated by employees) is out. These companies were tops in providing a positive culture, strong pay and benefits, flexibility, and much more.  Here are the top 5:
Large companies: Gainsight, Box, Bain & Company, McKinsey & Company, NVIDIA
Small to medium companies: Goodwin Recruiting, Telemynd, J.J. Taylor, Pariveda, Ironclad
The American Opportunity Index: A Corporate Scorecard of Worker Advancement | Burning Glass Institute and Harvard Business School
Check out the ranking of Fortune 250 companies based on these three factors: the access they offer to opportunity, the pay they offer in low- and middle-skill roles, and the level of mobility experienced by their employees both within and beyond the firm.
LEADERSHIP
Essential leadership traits to build organizations of the future | CEOWorld Magazine
As the business landscape continues to change and evolve, it is more important than ever for leaders to develop these six leadership traits that could make or break the digital business transformation journey.
DID YOU MISS THESE
How To End An Interview With Strong Closing Statements
32 Good Informational Interview Questions To Ask
How To Ask For A Promotion: The Complete Guide For 2023
The post Summary Sunday: Issue #504 appeared first on Career Sherpa.