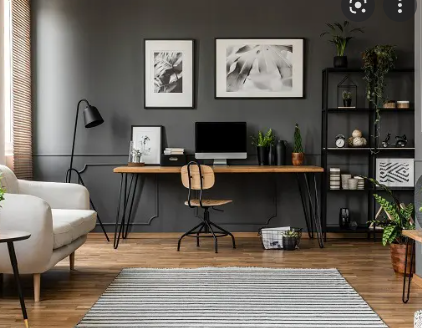 Many people have been working from home for the past two years. However, not everyone took the time to properly set up their home office. This is because many people thought that remote work was a temporary situation for them.
Now, however, more and more people are realizing that working from home might be their situation for the foreseeable future.
And while working from your couch is fine for a short-term work-from-home gig, it's far from the ideal permanent setup. You will likely need some type of home office. So, if you're looking for some items to make your home office a good workspace, you've come to the right place. 
A desk
Of course, the most important part of having a home office is having a space dedicated to your work so that you can separate your work from your personal life.
And the best way to do this is to have a desk. This way, you have a comfortable area to work and all of your work supplies are right where you need them. Keep in mind that to make your desk function well for you, you will also need a good office chair.
This isn't your only option, however. You can also look into a standing desk, which could help you improve your WFH setup.
A good computer or laptop
Nowadays, nearly all jobs require that you have a good computer or laptop. If you work in an office, this will likely be supplied for you, but if you work remotely, you may need to invest in a decent laptop or PC so that you can get your job done easily and correctly.
Of course, the type of laptop or PC you choose will depend on what you will be using it for as well as your budget. Before you can decide on a specific one, however, you will first need to figure out whether a laptop or desktop is better for you.
A stationery drawer
Even if you don't use a lot of stationery or the majority of your job is digital, you will need a stationery drawer – trust me.
You don't always realize how often you use small items of stationery until you have to scramble to find one, so you'll be saving yourself a lot of time by having all of your stationery in one place so that you can easily access it when you need it. If possible, you should also try to always have extra stationery items in case you run out of one.
A clock
This may sound silly, but you will be surprised at what a difference having a clock in your office can make. First of all, you won't be tempted to check your phone all the time to see what time it is.
Secondly, people often find that when they work from home, it's easy to lose track of time. At an office, you always know when it's time to knock off because you will see your coworkers leaving. As a remote worker, this isn't the case.
A clock might also help you stay focused instead of being distracted because it will help you remember your deadlines and overcome procrastination.
A planner calendar
While there are many digital calendars and planning apps out there, there's something about writing your tasks down on pen and paper that makes them feel more real, and that makes you more likely to tick them off.
Besides, you likely won't be talking to other people in the company as much as if you were working at the office, so it's easy to lose track of important dates.
Having a calendar in your office will help you remember exactly when certain things need to be done, and it can help you prioritize your tasks so that you make the most out of every day. This small thing can end up making a huge difference in your home office.
In conclusion
One major downside of having your own office at home is that you will likely be the one responsible for stocking it and keeping it in good order.
However, there are also some pros to working from home, such as the fact that you can kit your office out in whatever way you want, and you can set it up in a way that helps you to be productive. While every person has certain things they will need from a home office, there are a few things that every home office can benefit from, so hopefully, this post inspired you to get your home office ready.
The post 5 Items Every Home Office Needs appeared first on Jobacle.com.