During times of uncertainty, we all need to take steps to prepare for what comes next – even if we don't know exactly what that is.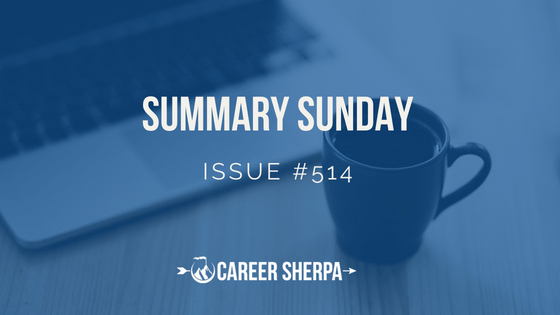 In this week's summary, you'll find articles that will help you get ready for a possible job search or improve what you are currently doing in your job search. Will you be ready if you are laid off tomorrow?
From October 2022 to March 2023, almost 800 companies have shed 473,000 jobs according to Bloomberg. The layoffs are no longer limited to tech companies but remember, even industries or companies that have laid off workers might need to hire in the near future. Don't jump industries out of fear. Make your decisions based on what makes the most sense for you and your situation. The moral of this story is to be informed and be ready!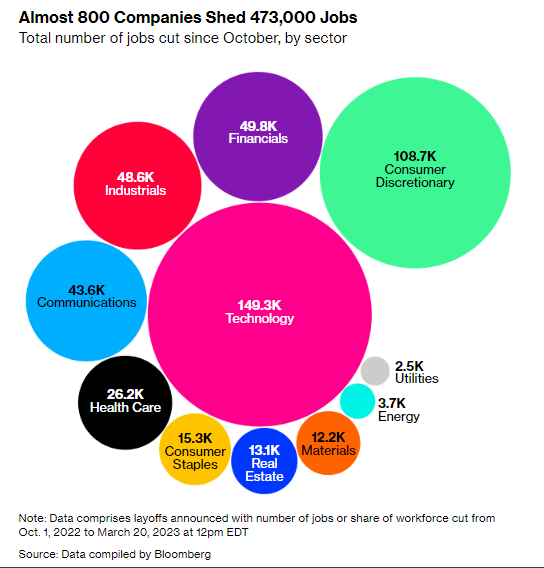 Here are the topics addressed in this week's Summary Sunday:
Job Search Experts to follow on LinkedIn
Get ready for job search
Anxiety caused by layoffs
Revamp your LinkedIn headline
List of the most transparent companies
Salary transparency has an unforeseen outcome
Change to severance agreements
Artificial Intelligence in Recruiting
Time management hack
Job search checklist
If you enjoyed any of these articles, please share and follow the authors!
JOB SEARCH
Top 10 LinkedIn Job Search Experts to Follow in 2023 | Jobscan
In this annual list of job search experts, you'll find a full range of expertise. Follow these experts and ring the bell on their profile to get notifications when they post new content on LinkedIn. (There's no need to invite them to connect!) Congrats to these job search allies who provide helpful information for all types of job seekers.
Get Market-Ready by Investing in and Using Job Search Skills | Job-Hunt.org
With layoffs in the news and fear of future layoffs looming, follow these tips by Barbara Schultz to get yourself ready to launch into a job search. Make time to take these actions before it becomes a crisis situation.
LAYOFFS
The toll of layoff anxiety | BBC
This article does a good job of looking at the emotions at play for those who have been laid off and those in fear of being laid off. This may not solve your stress but it does explain it. It may also help to know you aren't alone. Here's a quote from the article:
"One of the most comprehensive summaries of more than 300 studies on this subject shows that unemployed people are more distressed; less satisfied with their lives, marriages and families; and more likely to report psychological problems than the employed."
LINKEDIN
How to revamp your LinkedIn profile in 5 minutes | Josue Valles
See these 28 templates that will make it easy to plug in your own information and create a more interesting (and valuable) LinkedIn headline.
WORKPLACE TRENDS
50 Most Transparent Companies 2023 | The Org
If one of the things you value is transparency, then you may be interested in this list of the most transparent companies. This list is based on publically available information and the company's track record of being transparent and honest about its practices. It's a very interesting list of companies and worth checking out.
Severance for your silence? | LinkedIn News
When signing a severance agreement, you probably signed away your rights to speak out negatively about your employer. This may change. The National Labor Relations Board issued a memo this week clarifying last month's ruling, in which it barred businesses from using broad non-disparagement and confidentiality clauses in employee contracts. Though this may be challenged in court, it is a good sign that employers will be held in check.
Job posting laws create rifts between employee and employer over fair pay | Yahoo! Finance
As more companies begin incorporating salary ranges in their job postings, it is causing current employees concern. How will they get the same bump in pay a new employee gets? Read about how this trend is impacting job seekers, employees and employers.
AI Will Dominate Every Element Of Recruiting – A Snapshot View Of The Future Of Recruiting | Dr. John Sullivan
This is a look at how artificial intelligence will be used during the recruiting process. As you read this, I encourage you to think about what this may mean for your job search. But even more importantly, if AI has these capabilities for recruiting, how can it be used in your future job?
PRODUCTIVITY
The Pomodoro Technique Really Works, Says This Productivity-Hack Skeptic | The Muse
One of the hardest things about job search is holding yourself accountable and being productive. If you haven't heard about the Pomodoro Technique, see why it works!
JOB SEARCH CHECKLIST
For those who are new to job search or those that need to restart one, this checklist is a good place to start. Download the pdf here.
Job-Search-Checklist-2023-careersherpa

DID YOU SEE THESE
ChatGPT: 6 Ways To Use AI In Your Job Search
Structure Your Week During Job Search
Personal Development Goals For Work: Tips & Examples
The post Summary Sunday: Issue #514 appeared first on Career Sherpa.