There are common problems many job seekers face during their job search. If you are struggling, you aren't alone.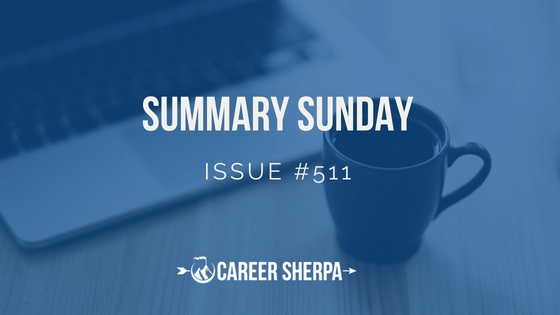 In this week's Summary Sunday, you'll find out what some of these problems are and how to fix them!
12 sources recruiters use to find high-quality talent
Public library resources
Job search scams
Talk to former employees
2 new LinkedIn features for job seekers
Messaging hiring managers (and 6 templates)
Before you quit, evaluate these 6 things
Stop assuming the worst
4 day workweek
If you like any of these, please share them with people who would benefit! Also, follow any of the authors on LinkedIn so you're always up-to-date.
JOB SEARCH
12 Places Corporate Recruiters Look For Their Next Hire | Chameleon Resumes
It has never been more important to diversify your job search. Lisa Rangel shares her survey of corporate recruiters which asks which sources they use to find qualified candidates.
Get Job Search Help At Your Public Library | Career Toolbelt
There are many reasons to visit your local public library and discover the resources available for your job search. And don't forget, your library makes a great getaway for a change of scenery.
Is This Job for Real? Dodging Fake Recruiters and Employment Scams | Robert Half
Beware of job scams! Here's what to watch out for so that bad actors don't "gather personally identifiable information (PII) from you during the "hiring" process that enables them to steal your money or identity or trick you into laundering cash for them."
Talk to former employees before accepting job offer | Adam Karpiak
Be sure to check out the comments for additional tips on how to do this and why it's so important.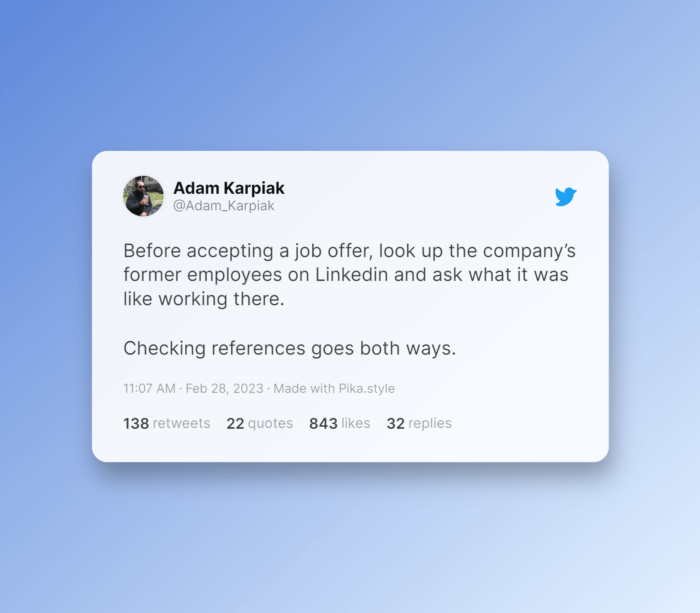 LINKEDIN
2 NEW Linkedin Feature(s) that help both Job Seekers & Recruiters | Kevin D. Turner
Check out these two new features for job seekers that are rolling out on LinkedIn. Also, be sure to follow Kevin D. Turner on LinkedIn to keep up with all the changes on LinkedIn.
A Better Way to Message Hiring Managers on LinkedIn (with 6 message templates) | Perfect-Fit Positioning
In Jessica Hernandez's LinkedIn newsletter, she shares how to find the hiring manager on LinkedIn, choose the right person to connect with, and what to say to the hiring manager when you reach out to connect and after applying for the job.
CAREER
Should I Stay or Should I Go | Win-Win Hiring
Lou Adler created a visual to help you decide if you should quit your job or stay. Just rank the six factors on a 1-5 scale from terrible to outstanding.
How to Focus and Move Past Your Destructive or Distracting Inner Narratives | Inc.
We can be our own worst enemies if we let our thoughts get in the way. Rather than assume or let feelings guide decisions, there's one question you have to ask yourself!
WORKFORCE TRENDS
4-day work week trial yields overwhelming success in U.K., researchers say | PBS Newshour
"61 companies that participated from June to December will keep going with the shorter hours and that most employees were less stressed and had better work-life balance." Here are some of the results:
71% of employees self-reported lower levels of burnout
65% reduction in sick days
57% fall in the number of staff leaving
Revenue increased by 1.4% on average for the 23 organizations that could provide data
JOB SEARCH TIP
Searching for a job is a process! It starts with you being clear about your skills and how you want to use them! But before you write your resume, know what types of jobs you are targeting so you can address the required skills on your resume. But don't stop here! Follow these six steps.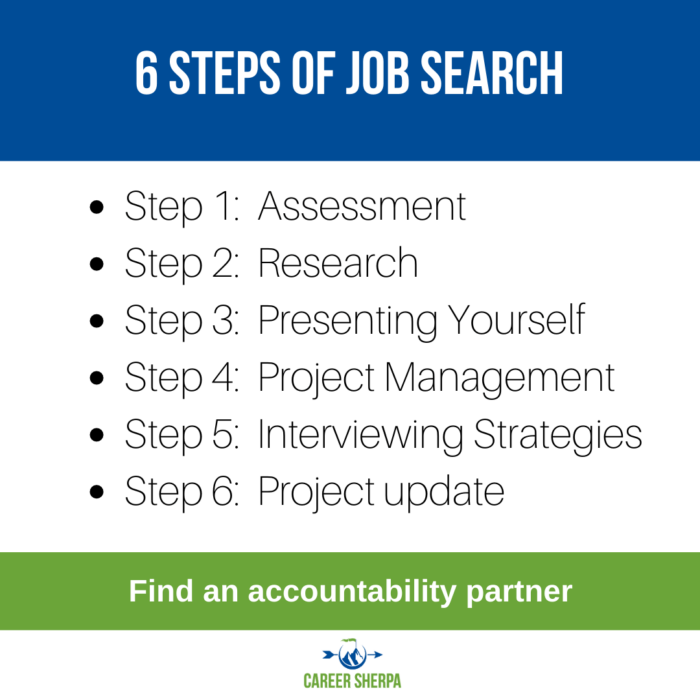 DID YOU MISS THESE?
Thank You Email After A Phone Interview: Tips & Examples
21 Coworker Farewell Messages That Stand Out From The Pack
"How Do You Handle Conflict?" How To Answer Effectively
The post Summary Sunday: Issue #511 appeared first on Career Sherpa.