To help you prepare for another year of uncertainty, see this week's summary of workforce trends, job search tips and more.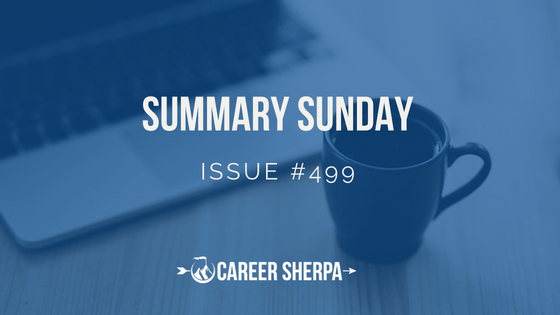 Will we or won't we see a global recession in 2023? How is this impacting hiring and employees?
This week's summary includes some of the year-end predictions for what's next in recruiting and the workplace.
You'll also find articles that address:
ChatGPT for job search
Top 4 skills needed for tomorrow's workforce
HR and Recruiting trends for 2023
CEOs leaving their roles
November spike in tech layoffs
Weak connections lead to jobs
How to find time to network
Well-being during job search
Reason for resigning
41 Big ideas for 2023 and beyond
I hope you enjoy these articles. Remember to follow the authors of these pieces for more helpful information.
JOB SEARCH
How To Use ChatGPT For Your Job Search | Avid Careerist
This new AI tool is like a finely-tuned Google search. It's also a fast writer. To understand how ChatGPT helps job seekers, see the questions and responses created in this article by Donna Svei.
WORKFORCE
How Skills Are Disrupting Work | Business-Higher Education Forum, Burning Glass Institute, Wiley
Business–Higher Education Forum (BHEF), in partnership with the Burning Glass Institute and Wiley compiled this report to help business and higher education prepare the workforce for the future. By analyzing hundreds of millions of recent U.S. job postings, the Burning Glass Institute and BHEF identified four of the fastest-growing, highest-demand emerging skill sets:
Artificial Intelligence/Machine Learning
Cloud Computing
Product Management
Social Media
What Will HR Focus on in 2023? | Gartner
Gartner surveyed more than 800 HR leaders about their top 5 priorities for 2023. Take note of Priority 3: Employee experience. This is a top priority for 47% of HR leaders, and 44% believe their organizations do not have compelling career paths.
2023 Recruiting Trends All Talent Teams Should Know | Lever
When you understand recruiters' priorities and reactions to economic uncertainty, you might uncover some new job search strategies. As you read this article, ask yourself, how will this impact my job search and/or the offerings made by companies?
Leaving The Rat Race Early | Korn Ferry
Did you know that over 1,000 CEOs left their roles during the first ten months of this year? Many have left earlier than expected. This short article looks at what's happening in the C-suite.
LAYOFFS
November 2022: Job Cuts Soar 127% As Tech Drains Jobs; Highest Monthly Total Since Jan. 2021 | Challenger Gray
While this spike in tech layoffs is alarming, not all companies in ALL sectors/industries are downsizing. Don't be alarmed. Just be forewarned.
NETWORKING
Which Connections Really Help You Find a Job? | Harvard Business Review
A new study, published recently in Science Magazine, shows "that your strongest ties — namely your connections to immediate coworkers, close friends, and family — were actually the least helpful for finding new opportunities and securing a job. You'll have better luck with your weak ties: the more infrequent, arm's-length relationships with acquaintances."
This doesn't mean you should go out and connect with more strangers — instead, use your strong connections to introduce you to those you don't know…yet!
How To Find Time To Network | The Introverted Networker
"I don't network because I don't have time," = "I don't network because it's not a priority." If networking is not a priority, then it's not important. Greg Roche has a weekly newsletter about networking and each contains tips and insights.
WELL-BEING
Am I Depressed? No Motivation To Job Search | Briefcase Coach
A reader asks for help to overcome her lack of motivation during her long job search. Sarah Johnston shares her advice and resources for those who are unemployed and depressed.
7 Resilience Tips for a Long-Term Job Search | Mac's List
Humans are hardwired to overcome obstacles. If you are not using your best problem-solving skills during your job search try these ideas to retrain your brain.
CAREER
How to Tell the Company Your Reason for Resigning | Ask HR Bartender
When you decide to leave your job, you do not need to provide a reason. This is a response to one reader's question about how to leave a company but keep the door open for a return later.
41 Big Ideas that will change our world in 2023 | LinkedIn
As you read this list of ideas and predictions, think about what excites you, how you can enhance skills, and/or how this might change your future. The ideas range from multi-modal AI to urban indoor farms. Each prediction contains data or examples of how these ideas are being implemented. (Honestly, this is one of my favorite, inspiring articles in a long time!)
MENTIONS
How to Find (or Start) a Job Search Club | Get Hired by LinkedIn News
This article explains where to find a job club or networking group for job seekers. Bob McIntosh, Erica Reckamp and I provide advice from our experience facilitating groups. These groups are one way to improve your job search and land a job 20% faster.
Job Search Trends of 2023 with Robin Ryan and Hannah Morgan | LinkedIn Live
Mark Anthony Dyson hosted this conversation about job search trends. We discussed Washington state's new salary transparency announcement, who wants remote work and who doesn't want remote work, emphasis on retention and internal promotions, how to stand out in 2023 and more.
MARK YOUR CALENDAR
Motivation Monday Job Search Accountability Group
Starting Monday, January 9 from 12-1pm ET
DID YOU MISS THIS
A Time When You Used Logic To Solve A Problem (Examples)
The post Summary Sunday: Issue #499 appeared first on Career Sherpa.