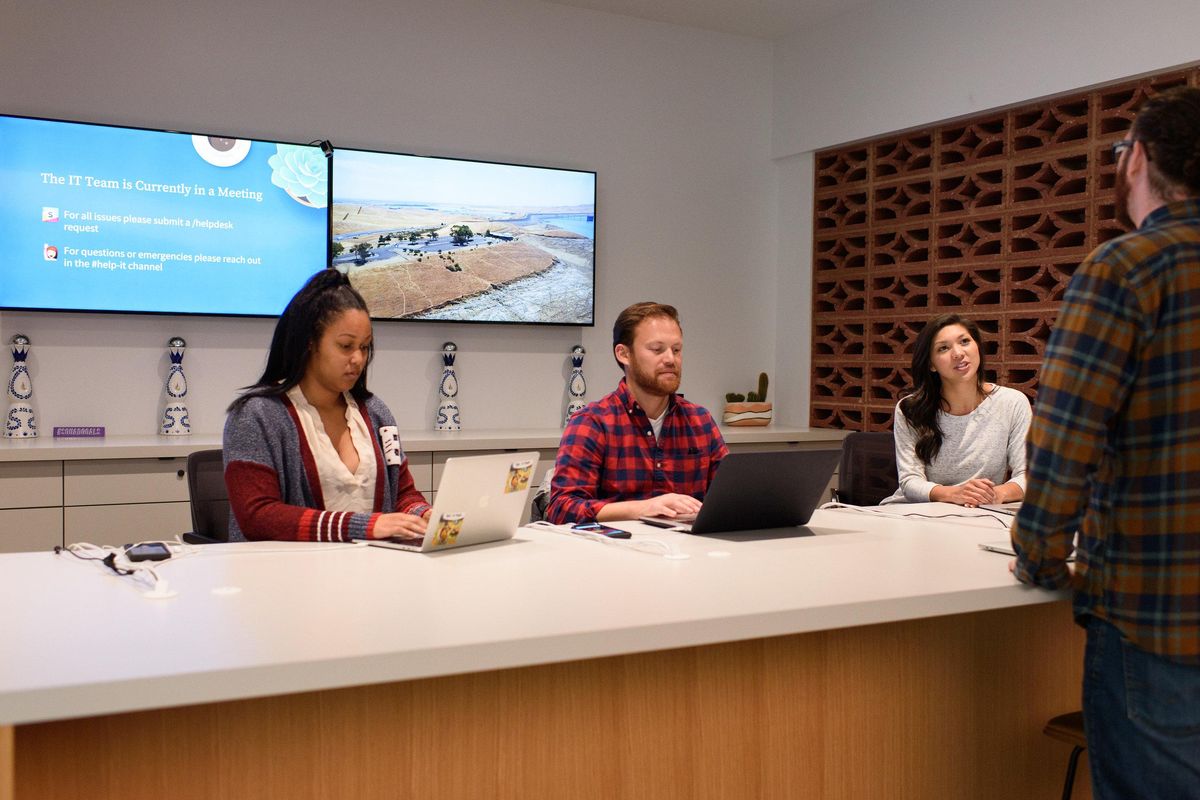 Slack is the leading channel-based messaging platform used by millions to align their teams, unify their systems, and drive their businesses forward. Slack offers a secure, enterprise-grade environment that can scale with the largest companies in the world.
Slack came along at a time when large organizations were struggling to coordinate with teams to get them moving in the same direction, and gave these companies a place to connect their conversations, information, and software.
With remote workforces expanding and becoming more prominent, Slack has become an essential tool for many businesses. Some well-known companies that use Slack include Oracle, E-Trade, SAP, and The New York Times.
Slack by the numbers:
12M+

daily active users

119K+

paid customers

65

of the Fortune 100 use Slack

150+

countries have daily active users in Slack
How To Find The Right Job At Slack 
@workitdaily

Reply to @rehatolani should I post 2/day? #workitdaily #jobportalabroad #jobtok #tipsandtricks #jobsearch #jobs #remotework #hiring #hiringnow #career
Slack is headquartered in San Francisco and has other American offices in New York, Chicago, and Denver, along with international offices in Toronto, Vancouver, Dublin, London, Paris, Munich, Melbourne, Sydney, Osaka, Tokyo, and Pune.
In addition to its offices, Slack offers remote roles and remote work flexibility. Job seekers interested in remote work positions should review all postings carefully.
Slack has job openings in analytics, business development, business technology, communications, customer experience, customer success, design, engineering, legal, marketing, product management, program management, recruiting, sales, and solutions engineering.
Slack also has a great 12-16 week summer internship program where interns are given real projects that make an impact.
3 Great Things About Working At Slack
Slack is embracing the future of work.
As a company that has developed a platform that makes working and collaborating remotely easier, it only makes sense that Slack would also embrace remote work flexibility.
While COVID-19 sent Slack's workforce remote, the company's leadership quickly realized that a remote-first work environment would likely persist long after the COVID-19 pandemic. As a result, the company opened up remote work positions and has given most employees the option to work remotely on a permanent basis.
The company is working hard to reimagine the workforce as things continue to evolve.
"Slack is committed to shaping the future of distributed work. Whether that means working out of one of our offices, having the flexibility to work from home a few days a week, or working remotely on a permanent basis, we're providing more choices to employees on where they can do their best work," the company states.
Slack is for everyone.
Slack has a diversity, engagement, and belonging (DEB) program that encourages a diverse workforce on multiple levels. The company realizes that sometimes the best talent falls through the cracks because they don't always have the easiest access to certain career opportunities. To address this, Slack has a few different initiatives going.
Partnership with Year Up - Slack works with Year Up, a workforce training program that connects underserved young adults with meaningful career pathways. According to Slack's most recent diversity report, 87.5% of Slack's Year Up interns have converted to full-time roles.
Employee resource groups (ERGs) - Slack has multiple ERGs that allow employees with shared characteristics or life experiences to come together. These groups are constantly evolving and helping to push new company initiatives.
Rising Tides - A six-month sponsorship program for a talented and diverse group of high performers and emerging leaders at Slack who have historically lacked access to this type of support. Program participants receive career development training, executive coaching, and one-on-one sponsorship with a Slack executive team member, with a focus on building a supportive community of peers.
Next Chapter - This program helps formerly incarcerated individuals find skilled, long-term employment in the technology sector and shift perceptions around re-entering individuals. The first three apprentices that completed this program are now full-time engineers at Slack.
Employee happiness is important at Slack.
Slack employees are focused on doing their part to make other people's work lives easier, and Slack leadership strives to do its part in returning the favor for its own employees.
While at work, Slack wants its employees to be creative, collaborative, and supportive of each other while having fun. Outside of work, Slack encourages its employees to unplug and leave work behind. So far the company seems to be doing something right as it earned a culture score of 4.2/5 on Comparably and was named one of the "Best Places to Work" by Glassdoor in 2020 and 2021. Slack CEO Stewart Butterfield earned a high score of 92/100 on Comparably.
Some of the employee benefits and perks at Slack include:
Personal development stipend - Slack employees receive an annual allowance for professional development, plus a monthly stipend to be used toward anything
Health and wellness - Free medical, dental, and vision for employees and their families; Slack pays 100% of premiums and also offers access to a range of free mental health and well-being resources
Parental perks - Slack offers generous parental and new-child-bonding leave, along with access to child-care assistance services for kids up to age five
Career Opportunities At Slack
To apply or learn more about working at Slack, check out the company's careers page.
Source