Figuring out how to write a letter of introduction can seem daunting. Even though this note is supposed to be brief, it's hard to know where to begin!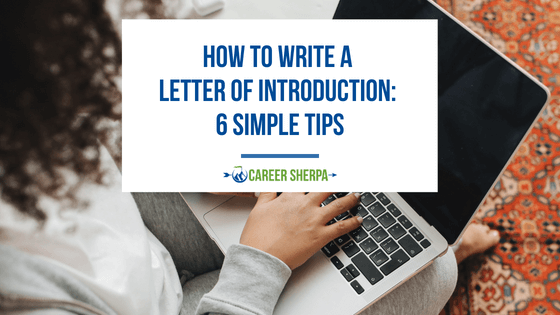 But fortunately, it doesn't have to be complicated. This guide will teach you everything you need to know when sitting down to write a letter or introduction.
What is a Letter of Introduction?
A letter of introduction is a powerful way to reach out to people who could help you further your career. It's an opportunity to get your name in front of individuals who matter while still maintaining a sense of professionalism and class.
We all know how important networking is and what it can do for one's career. But many people have trouble expanding their professional circle and meeting others. It can feel awkward reaching out directly to someone who could play a role in your next job opportunity.
Letters of introduction make that process a little less uncomfortable and help you forge new connections in your industry. Whether you're reaching out to a hiring manager at a company you want to be a part of or someone influential in your industry, letters of introduction are a great way to get your name out there and build a new relationship.
These letters are not the same as cover letters. Nor is it a letter that you use to respond to a job posting. Instead, it's a piece of professional correspondence that aims to get you a brand-new business contact who can answer questions and help push your career further.
How to Write a Letter of Introduction
Learning how to write a letter of introduction isn't as complicated as you might think. Because this correspondence isn't directly associated with a job, there's less pressure involved.
That said, it's important to put your best foot forward and make a lasting impression that benefits you in the future. Here are some tips to remember when writing a letter of introduction.
1. Give a Personalized Greeting
The first thing you should do is provide a strong opening. Offer a warm but professional greeting. It should be brief and thank the reader for taking the time to look at your letter.
It doesn't matter if you send an email you got from a business card, send a letter over snail mail or follow up after connecting on LinkedIn. The recipient is choosing to read your letter. They could easily toss it after realizing they don't recognize your name, so getting past that first barrier is a big deal.
Thank them for their time and provide a professional greeting.
Another vital thing to do is personalize it. Please don't make the mistake of writing a single generic letter of introduction, thinking you can send it out to multiple contacts. That's one of the worst things you can do.
First, it comes off as insincere. The people you're writing to get tons of emails and messages each day. If one comes off as inauthentic or borderline rude, they're not going to reply. It's completely within their right to send your letter directly to the trash bin!
Second, impersonal letters often look like spam. Something as simple as referring to the reader by name makes a big difference. It ensures that the letter came from a human and not a bot, providing some peace of mind when opening it.
In order to write a letter of introduction that is likely to get read, you'll need to do some basic research on the person you are sending it to. Do they work for a company you are interested in working for? Do they hold a job you aspire to be in? Where did they go to college? Where did they used to work?
2. Be Formal But Friendly
When writing a letter of introduction, getting the right tone is essential.
The goal is to be formal while still keeping things friendly. Remember: This isn't a letter to directly ask for a job or start amassing contracts. It might lead to that someday, but that's not the purpose now. It's merely an introduction to get the recipient familiar with you.
It doesn't have to be overly formal. There's nothing wrong with leaning more toward friendly. A warm and welcoming tone could make all the difference.
That said, don't be so relaxed that it comes off as unprofessional. Ultimately, the letter should help you put your best foot forward and build an image of professionalism.
Read over your letter multiple times or better yet, ask someone else to read it to make sure your tone and delivery are just right.
3. Explain the Purpose of the Letter
After you make your introductions, immediately go into the purpose of your letter.
Never forget that the people you're writing to are very busy. Not only do they often have tight schedules, but they may receive many similar letters regularly. You don't want to waste anyone's time.
A letter of introduction is not the time or place to go into long, convoluted stories about your dreams and aspirations. There's no need to get into your life story or dive into insignificant details. Opportunities to discuss those things may come later on, but for now, get to the point.
Explain why you're writing, and do so immediately after introducing yourself. It should be near the start of your letter, ensuring that readers know why you're writing within the first few sentences. It's about "cutting to the chase."
Don't wait until the end of your letter of introduction to explain why this person is reading your message. If you do that, they might try to skim over the letter to determine what it is. That could make them miss out on essential parts of your letter. Or, they could get frustrated, assume it's spam, and toss it.
Be direct by telling the reader exactly why you're reaching out
4. Keep the Letter Brief
A letter of introduction should be relatively brief. Once again, the last thing you want is to waste anyone's time. Writing a long-winded email is one of the quickest ways to get it tossed.
No one wants to read massive walls of text from someone they've never met before. That's especially true when it's an introductory email with no real purpose other than breaking the ice and exchanging names.
A couple of paragraphs is all you need.
Offer a personalized introduction, state why you're writing, and tell the reader why they should care. That's it! Anything other than that, and you run the risk of getting too wordy.
Ditch the fluff and focus on providing substance. A short, high-impact letter will give you better results than one that's wordy.
5. Explain Why It Matters for the Reader
If you're writing a letter of introduction, you need to go further than explaining your intention. Tell the recipient why it should matter to them.
Put yourself in your reader's shoes for a second. You're going about your day and receive a random email from someone you've never met before. What would your first reaction be?
If you're busy, it might not be possible to devote significant time to help others pursue their career goals. There needs to be some incentive to take this seriously.
That's why it's important to explain what's in it for the recipient when writing your letter of introduction. How is it relevant to their job and career? Why should they take the time to read it?
Those are all questions you want to ask yourself before you start writing. Then, make these points clear! Tell the recipient exactly why this is worth their time and how it can benefit them.
Examples might be that you were referred by someone, you admire their career achievements or you read about a project they oversaw. These are sincere yet flattering reasons why someone would take the time to read your letter.
6. Include a Call to Action
Above all else, a letter of introduction should be professional, friendly, and low-pressure. However, that doesn't mean you can't be a little direct. Confidence and direct language can go a long way.
A common issue with introduction letters is that they often leave recipients little to go on. You aren't inquiring about jobs or projects in your correspondence, so many readers don't know what to do with the information you provide.
Do they save your contact information and move on with their day? Or do you want them to respond and reach out?
In most cases, the latter is your goal. You want this first point of contact to flourish into a meaningful business relationship that benefits you and the recipient long-term. Don't wait for the stars to align and for you to have a "chance meeting."
Ask the reader to take action. Be clear and tell them what you're looking for. That doesn't mean you should outright say that you want a new job or business opportunity. But it can mean you ask them to meet up in person to discuss their work or jump on a call.
End your letter of introduction with a solid call to action, and detail how they can reach out. A call to action could be to set up a meeting with you, find time for a quick phone call, respond to the message, etc.
Whatever the case, that small call to action tells the reader what you want from this interaction. It encourages them to reciprocate and turn a simple letter into a burgeoning business relationship.
Sample Letters of Introduction
As you can see, learning how to write a letter of introduction isn't tricky. However, sometimes it's useful to see some examples to help you get started.
Here are several samples for you to use as inspiration.
Sample 1
In this letter of introduction, a young marketing professional reaches out to a large firm hiring manager. Their goal is to one day work at that firm, so they're forging the path now to get their foot in the door and create opportunities for the future.
"Dear Samuel Smith,
Thank you for taking the time to read my letter. My name is [NAME], and I'm a junior marketing specialist who primarily focuses on digital campaigns. I'm still relatively new to the industry, but I've been a fan of your firm's work for many years.
If you have the time, I'd love to speak with you and gain insight from an industry veteran like yourself. If you're available, please reach out at [PHONE NUMBER AND EMAIL].
Thank you for your time, and I look forward to hearing from you.
Sincerely,
[YOUR NAME]
[Phone Number]
[Email]"
Sample 2
Our second example is more to the point. Here, the writer just moved to a new city and wants to explore potential employment opportunities. To do that, they send letters of introduction to hiring managers at companies that interest them. The letter is simple, concise, and doesn't spend too much time diving into the specifics.
It's more of a glimpse at what a future conversation can be, leaving the door open for the recipient to continue correspondence.
"Hello, Sarah Adams,
I hope this letter reaches you well. My name is [NAME], and I'm reaching out to learn more about your company and opportunities that might come up in the near future.
I'm a marketing manager with over a decade of experience running digital campaigns for businesses of all sizes. I recently moved to Orlando from Phoenix, and I hope to learn more about your firm. I believe I would be a great asset to your team, and I'd love the opportunity to learn more.
I've attached a link to my portfolio. If you have the time to schedule a brief meeting, please call me at [PHONE NUMBER] or respond to this email.
Thank you for your time.
Best,
[NAME]
[Phone Number]
[Email]"
Sample 3
This third example is an introduction to someone they've been following on LinkedIn. The writer wants to meet with a person they believe may be attending an upcoming industry conference. They may send a version of this letter of introduction to several people in their industry. The call to action is to find out if they will be attending a conference.
"Hello, Jim Dean,
I've been a long-time follower of yours on LinkedIn. My name is [NAME], and I'm reaching out to see if you will be attending the SHRM conference in Atlanta this fall.
I've recently acquired my SHRM certification and am excited to meet fellow HR professionals. I'd love to meet in person to learn more about your career path and what additional training you have found benefitial.
Please let me know if you'll be at the conference. In case you won't be there, it would be great to have a quick call with the next couple of weeks. Let me know what works best for you. Here's my phone and email: [PHONE NUMBER AND EMAIL].
Many thanks for the inspiring posts you share on LinkedIn.
Sincerely,
[NAME]
[Phone Number]
[Email]"
Closing Thoughts
Now that you know how to write a letter of introduction, there's nothing left to do but get started! While it can seem a bit intimidating at first, it's easy once you have the right mindset.
Now get started!
The post How To Write A Letter Of Introduction: 6 Simple Tips appeared first on Career Sherpa.