Learning how to message someone on LinkedIn about a job doesn't have to be tricky. In fact, you can find success rather quickly if you follow the right steps!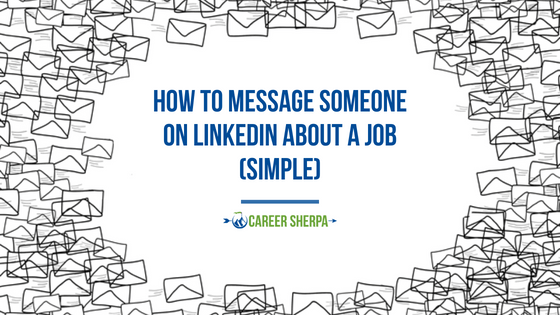 This guide will teach you how to approach and reach out to individuals on LinkedIn about jobs in a way that's effective and professional.
How to Message Someone on LinkedIn About a Job
LinkedIn has great potential for job seekers. The networking site connects you with millions of working professionals, and you can easily find the right people to reach out to when seeking employment. Whether you have an interest in working with a specific organization or you're looking to enter a brand-new field with little experience, LinkedIn is a great place to start your employment journey.
But how do you message someone on LinkedIn about a job?
1. Engage With Their Content
Before you message someone on LinkedIn about a job, start by doing a little research and viewing profiles of the people you're interested in speaking to.
Many professionals are active on LinkedIn these days, so it's easier than ever to connect with the right people. Use the platform's feature-rich search function and view peoples' roles with the companies that interest you.
The best people to reach out to are those with direct hiring or recruiting responsibilities. While you can learn a lot from other employees, they don't have much pull to help you get opportunities.
They can tell you more about the company and even put in a good word from the inside, but if you're inquiring about jobs it's best to reach out to recruiters and hiring managers.
Once you find the right people, resist the urge to reach out immediately! Contacting someone out of the blue is sometimes called "cold messaging." It's similar to the sales concept of "cold calling."
Recruiters fully expect to get messages from people they've never met or interacted with on any platform. However, it pays to get on their radar before you reach out.
How do you do that? By engaging in their content.
LinkedIn is a great place for professionals to share their wisdom, and many people create content that you can comment on, share with your inner circle, and more. Like other social media platforms, LinkedIn provides notifications about post engagement.
That means a great way to get your name in front of potential new contacts is to engage with that content by commenting.
The goal here is to "warm the waters" a bit. You don't want to go over the top, but a little engagement goes a long way.
Interact with the content selflessly, and you can quickly get on the person's radar. Remember that by doing so, you're actually helping them out as well. That type of engagement can boost the visibility of their content and help them create more connections.
But more importantly, you're putting your name out there. While you're not reaching out directly, the contact will see your name. When you eventually do send a message, they may be more inclined to pay attention.
2. Create a Custom Message
One of the biggest mistakes job-seekers make when messaging someone on LinkedIn about a job is using the same message over and over.
We get it: Creating one template and changing the name of the person you're reaching out to is far easier than starting from scratch each time. However, this approach can backfire.
For one, most recruiters and seasoned hiring managers can tell whether a message is a template or something you spent time writing. Those messages are usually pretty cold and inauthentic. They lack any personality, which is a dead giveaway for something pre-written.
Messages like that aren't as effective. The recipient will see straight through them and be less likely to respond or accept your invitation to connect if they feel you are "mass mailing" to every recruiter.
That's why custom-written messages are the way to go when reaching out to someone on LinkedIn about a job. They show great enthusiasm and let people know you're serious. They convey a sense of genuine interest.
You don't get any of that with canned emails and basic templates.
Plus, you may inadvertently send the same email to people who work closely together. Imagine using a template to reach out to two people on the same team! What happens when they share that message and realize that you couldn't be bothered to write separate statements?
This tells them that you didn't make much of an effort. If you want to be considered for a position, that small detail could be the thing that makes key decision-makers look elsewhere.
Don't let something so small be what prevents you from advancing your career to landing a major job opportunity!
While writing custom messages for everyone will take a little longer, the results will be worth it.
3. Don't Dance Around the Reason for Your Message
When messaging someone on LinkedIn about a job, you need to remember that they're likely busy and receive a number of similar messages each day. That reminder isn't to discourage you from being proactive and reaching out, but you should always be sensitive to how you message people.
Get straight to the point, and don't dance around the reason for your contact. It's best to be direct.
For example, some people like to lead in with an apology. It's a gut reaction to something that might feel like an inconvenience. You don't know this person, and you're reaching out hoping they can help you.
But starting with an apology that could have the opposite effect of what you want. First, it's a big time-waster. Reading through a paragraph of you apologizing is not a good use of anyone's time.
As we said earlier, messaging people on LinkedIn about jobs is quite common. You don't need to feel ashamed, and you definitely don't have to apologize. You can thank the person for their time, but you shouldn't start things off with an apology.
Send your message with confidence and get to the point. Be professional, concise, and explain why you're reaching out.
4. Keep Your Request Reasonable
Our next tip for reaching out to people on LinkedIn about a job is to keep it simple and avoid asking for too many things at one time.
The goal of this first message is to engage in conversation and inquire about potential job opportunities. You want to get on their radar and get your foot in the door. What you don't want is to overwhelm the reader with requests!
Asking for too many favors can hurt your chances of getting job opportunities in the future. While recruiters are often interested in answering questions, they're not there to serve as your personal job coach. They have things to do and other people to speak to!
When you have a laundry list of things to ask for, your message suddenly becomes a huge burden. Don't be surprised if you don't get a response at all.
That's why it's smart to limit yourself to one request.
Maybe you want them to know you are interested in a specific job they have posted. List your top qualifications and invite them to check out your LinkedIn profile. Or, perhaps you want to know about a future job opportunity or hiring event. Whatever the case, keep it simple and make sure the message only has one purpose.
If the person you reach out to replies and indicates an interest in an ongoing conversation, you can bring up other questions or requests. But for this first message, keep it straightforward.
5. Avoid Lengthy Messages
Finally, try to keep things short and sweet. This is yet another way you can make things easier for the person you're contacting and not waste their time.
When you message someone on LinkedIn about a job, it doesn't need to be lengthy. This will only frustrate the reader. If they see a large block of text, they might not even attempt to read it at all.
If you're lucky, they might skim through it. But even then, you'd be hard-pressed to get a reply.
How long should a message be? There's no perfect answer, but it's a good idea to make 100 words the limit. To remain concise, aim for a word count of 50 to 75 words instead. That will help you eliminate fluff and ensure you're getting straight to the point!
6. Find Something In Common
Whenever possible, find something you have in common with the hiring manager or recruiter you reach out to. You could reference a shared connection, college or university, previous employer or even location.
When you mention some mutual interest or person, you not only show that you've done some basic research, but you also eliminate some anxiety. It's much easier to connect and have a conversation with someone when you have a common interest or background.
Messaging On LinkedIn
In order to send someone a message or InMail on LinkedIn you either need to be at least a second-degree connection or pay for a LinkedIn Premium membership.
Often, LinkedIn will offer users one month of Premium free. That's a great way to test out messaging.
Another trick to messaging people you are not connected to is to join a group they belong to. Users who belong to the same group can message each other.
Examples for Job-Seekers
Ready to start crafting your own messages? To help you out, we have some examples to guide you in the right direction.
These examples all serve as a good framework for how you should message someone on LinkedIn about a job. You can use them as starting templates, but make sure you customize every statement to the recipient and the situation.
Every message you send should be unique, so don't copy these messages verbatim. Instead, use them as a guide. Compare them to your own to ensure that every message you send is concise, straightforward, and professional!
Example 1
In our first example, we have a message for someone looking to enter a brand-new field. The job-seeker is currently finishing up their education. However, they're being proactive about the job search and getting feelers for the industry.
"Hello Rebecca,
I'm [NAME], and I see that you recruit for software developers and are located in the Burbank area. I'm wrapping up my education at [SCHOOL], and I am eager to put my skills in Java and Python to the test.
Do any of my credentials fit the types of roles you're currently recruiting for? If there's a position you believe would be a good fit for me, I'd love to talk more. Thanks for your time."
The message here is very simple. It conveys the goal of the message and what the job-seeker wants. There's no beating around the bush or excessive apologies.
It also opens the door for potential ongoing communication, which is always a plus.
Example 2
In our second example, the recipient is not a third-party recruiter. It's a hiring manager at a specific company.
In this case, the job-seeker found a contact from the organization they're most interested in getting a job at. This initial message expresses interest and hopefully opens the door for potential job opportunities in the future.
"Hi Mr. Smith,
As I researched openings at [COMPANY], your profile caught my attention. I've spent the last decade in public accounting, and I'm currently searching for new opportunities. Some of my most substantial areas of expertise include compliance, database reporting, and project management.
If you're the person in charge of hiring for this role, I'd love to learn more about the position and what you're looking for from a candidate."
This message works for a few different reasons. The biggest is that it appeals directly to the hiring manager's needs. This job seeker found the person while looking for open positions.
They know that this contact is actively searching for people to fill the role. But instead of simply filling out an application, they express their interest directly. It's a great way to surpass the screening process and get your name in front of people who could ultimately make the hiring decisions.
You're forming a bond with important people and making your goals known from the start.
Example 3
In our final example, the job seeker is looking to make professional connections in an industry they want to enter. The person they contact might not be directly responsible for hiring, but they're significant enough to make it worth spending time to develop a relationship.
The job seeker in this example wants to learn more about the industry and the company they work for. The goal is to potentially get a recommendation or learn more about open opportunities that might not be public yet.
"Hello Ms. Johnson,
I recently read your article on LinkedIn about IoT technology and how you expect it to change healthcare in the future. I'm about to complete my degree in Computer Sciences, and I'm thinking about pursuing a career in IoT and artificial intelligence.
I'd love to hear your thoughts and recommendations for someone just beginning their career in this area. I'd also enjoy asking questions about your career path. Thanks for your time."
This is an example of reaching out to someone on LinkedIn about a job, without directly saying so. The job seeker is still direct. They ask a single question and open the door for more communication.
However, they don't come out and request a job recommendation. The hope is to foster a healthy professional relationship that will lead to job recommendations and insight in the future.
There are many directions this message can go. It's straightforward and concise, but it leaves the door open for closer communication.
The reader could connect them with a hiring manager for their company, steer them in the right direction for developing their skills, and more.
Conclusion
Now you know how to reach out to someone on LinkedIn about a job, so it's time to start putting together your messages!
Follow the steps above, customize your message, and you'll be getting responses in no time.
The post How To Message Someone On LinkedIn About A Job (Simple) appeared first on Career Sherpa.