Learning how to introduce yourself in an email is a valuable skill that you can rely on in numerous situations. Being able to quickly connect with people and make a great impression will always come in handy!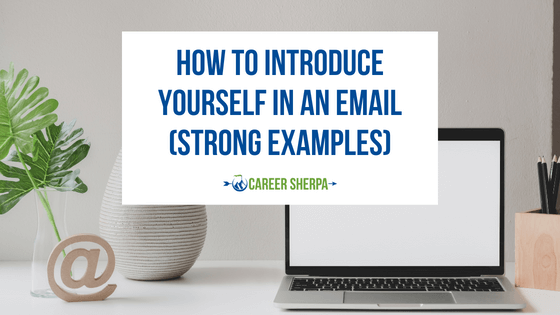 This guide will teach you how to write a self-introduction email that works.
What is an Introduction Email?
An introduction email is a short message you send to someone you've never met. The goal is to establish a connection and let the recipient know who you are.
Think of the times you've met people in real life. First impressions count, and a short introduction is a great way to stand out from others that person might meet. An email can do the same thing, only through a more convenient mode of communication.
Emails are one of the easiest ways to reach out to strangers or individuals you've been referred to. Typically, these emails will eventually lead to a request, so it's important to think about how you structure this message.
Why is It Important to Write a Good One?
You may wonder if a self-introduction email is even necessary.
If you have a request or plan to work with the recipient at any point in the future, these emails are paramount! They're a professional courtesy that starts the relationship on a good note. Imagine how off-putting it would be for a total stranger to reach out with a request. How would you react if you knew nothing about them?
Introducing yourself via email can break down any awkward barriers and set up a good rapport moving forward.
Furthermore, they give recipients a reason to open the email. Whether you're contacting a potential employer or a client you want to sell to, they likely receive hundreds of emails daily. You must compel people to want to communicate with you. Otherwise, future correspondence can end up in the spam folder.
A well-written introductory email is a perfect start to a working relationship. It sets the tone of your communication style and is a nice pleasantry that will leave the recipient with nothing but positive things to say about you.
How to Introduce Yourself in an Email
There aren't any defined rules to follow when writing an introductory email. But what you say and how you say it can make or break the impression you want to leave.
Here are a few tips and best practices for introducing yourself in an email.
1. Write an Effective Subject Line
The first thing to do is write an attention-grabbing subject line.
The subject line is what your recipient sees before opening and reading the body of your email. Most people scan subject lines as they view their inboxes. If they don't recognize the sender, this short blurb is usually the deciding factor on whether they want to read your message or not.
Having an impactful subject line makes all the difference!
You want it to be succinct and descriptive. Steer clear of "click bait" or vague sentences. Get to the point and give the reader a glimpse of your email's topic. The best course is to inform the recipient what you're messaging them about in the subject line.
For example, say that you want to learn about possible job openings for a marketing team. You could put "Marketing Associate Position Inquiry." Alternatively, an email requesting that the reader provide you with marketing data could have the subject of "Marketing Analytics Request."
Those subjects work because the reader knows precisely what they're getting when they read your email.
2. Address the Right Person
Our next tip is to provide a personal greeting and name the recipient directly.
Oftentimes, you see people use self-introduction email templates with generic descriptors. Avoid those in favor of something more personal.
Unpersonalized templates will look insincere and cold. Many readers will assume that the email is spam or basic marketing fluff. They may stop reading after your greeting!
Tailoring the greeting to the person transforms your email into warm correspondence. It looks more personal and adds a touch of professionalism.
Make sure to follow formalities for your industry. For example, you might want to use professional titles and last names only if you work in a more formal field. Alternatively, first names will work for more relaxed atmospheres.
Either way, researching the person before writing the email is always a good idea. This will help you understand what type of greeting is most appropriate.
3. Tell Them Why You're Emailing
When you're introducing yourself in an email, tell the reader why you're messaging them. Don't add a bunch of fluff. Let the recipient know and cut to the chase.
You want to keep it short and informative. Remember that people read emails quickly and often skim. Explaining why you're sending the message right off the bat is always a good choice.
If you have a mutual contact, you can mention them. Explain how you got their email address and why you're reaching out. Doing this helps build credibility and makes it easier for the reader to connect the dots.
4. Provide a Call to Action
The last section of your email should include a call to action. You likely have a request you'd like to make. That could be to respond to your email, have the recipient reach out via phone call, consider you for a job, etc.
Whatever the case, include a call to action statement to encourage them to fall through.
Don't be too pushy. Reread the statement a few times to ensure you don't appear too demanding or forward. It needs to be a polite request. Otherwise, the message comes off-putting.
5. Thank the Recipient for Their Time
End your self-introduction email on a positive and appreciative note.
Acknowledge that the recipient has a busy schedule and that you are thankful for them taking the time to read your email and fulfill your request. A sign of gratitude is a nice professional touch that will make your message memorable. It's a great way to establish a good rapport and increase the chances that the reader follows through with whatever request you have.
Remember to use a professional closing. For example, you can use a "Sincerely" tag or something similar. Provide your name and include a signature with links to your email and professional networking profiles. You can also include phone numbers and other relevant contact information.
6. Be Concise
Our last tip is to be concise.
We touched on this briefly, but it bears repeating.
The last thing you want to do when introducing yourself in an email is draft a lengthy email that takes several minutes to read. Most people skim anyways, so large blocks of text aren't ideal.
Keep it short and proofread it several times. Remove extraneous information and stick to your main introductory points.
Email Introduction Examples
Every introductory email you craft should be unique to you and the reader. However, we have a few examples you can use as a jumping-off point while you write.
Use them as inspiration!
Formal Introduction
When you need to reach out to someone in a formal industry, you must have a professional tone when introducing yourself in an email. Failing to maintain the formalities of the field can leave a bad impression. You must play conservatively and avoid words that are too casual or conversational.
Subject: Meeting request with [YOUR NAME] at [COMPANY]
Greetings Mr. Johnson,
My name is [NAME], and I'm a marketing representative for [COMPANY] in New York City. We're in the midst of planning a unique marketing campaign, and I wanted to take this opportunity to introduce myself and request a meeting about a potential collaboration with your firm. Your company comes highly recommended, and our team would be grateful to work with you.
Please contact me at your earliest convenience. I look forward to hearing back from you and exploring a partnership opportunity. Thank you for your time.
Best regards,
[YOUR NAME]
[YOUR EMAIL]
[CONTACT INFORMATION]
Casual Introduction
On the opposite side of the spectrum, we have a more casual sample introductory email. This style works great if you're in an industry that doesn't rely too much on formalities. It's a great way to break the ice and establish a comfortable rapport.
A conversational tone and friendliness are key to casual emails.
Subject: Meeting Request: Recommended by James Whiteside
Hello Jessica Shannon,
I hope that you're doing well and having a great day. I'm [YOUR NAME], a project manager at [COMPANY]. My team is currently working with James Whiteside, who has previously worked with your marketing team over at [COMPANY]. He recommended that I reach out to you.
We're preparing to launch a new product and are interested in working with your team on some of our advertising plans. We have many ideas, and we believe that your firm is the right one to help us bring them to life. If you have the time, I'd love to tell you about our new product and what we're thinking.
Let me know if you're interested. Please don't hesitate to send me an email or call my office at [PHONE NUMBER]. Thanks a bunch for your time, and I look forward to hearing from you!
All the best,
[YOUR NAME]
[YOUR EMAIL]
[CONTACT INFORMATION]
Job Application
Sometimes, companies don't provide application portals. Instead, they provide the email address of hiring decision-makers, leaving you to reach out. Here's how to do that and leave a good impression on a future potential employer.
Subject: Customer Support Agent Application
Dear Ms. Atreyo,
My name is [YOUR NAME]. I'm reaching out today because you're listed as the hiring manager for the customer support agent at [COMPANY]. I greatly respect [COMPANY] and the great customer service reputation you've helped create.
I'd love the opportunity to be a part of the team. I've attached my resume and cover letter, and I hope that you will take a look and consider me for the open customer service agent position.
Thank you for your time in reading my email, and I hope to hear back from you.
Sincerely,
[YOUR NAME]
[YOUR EMAIL]
[YOUR LINKEDIN URL]
[CONTACT INFORMATION]
Asking About an Open Job
Sending a self-introduction email about an open position can be daunting, but it's a great way to get ahead of the curve and learn about opportunities before they go public. Here's a great example of a powerful email that makes a great impression.
The sender provides quick information and leaves a positive first impression on a hiring manager with a potential open job.
Subject: Inquiry About Accounting Position
Dear Mr. Brooks,
My name is [YOUR NAME]. I recently read in the Tribune about how your leadership at [COMPANY] helped your organization experience substantial growth in the last year. I wanted to take this moment to congratulate you on your success and say that your story is inspiring.
I'm interested in the accounting positions and I've looked at those listed on your website.
Are there any positions still open? I also have a few questions about the software you use and what accounting work you're looking for candidates to achieve. Please respond to this email or give me a call if you have a few minutes to talk.
Thank you for your time.
Sincerely,
[YOUR NAME]
[YOUR EMAIL]
[YOUR LINKEDIN URL]
[CONTACT INFORMATION]
Requesting Information
Our next example is about a request for information. It's a good template to use if you want to have a conversation with the recipient or get access to information they have. For example, you can use this example if you're conducting a research paper or want to write a piece for a blog or newspaper.
Subject: Interview Request, [YOUR NAME]
Hello Samantha Mikulchuk,
My name is [YOUR NAME], and I'm a contributing writer for [COMPANY]. I cover financial news and recently saw your LinkedIn profile. I'm impressed with your accomplishments at XYZ Company.
I'm crafting a piece about early career XYZ Company success stories, and I believe you'd make for an interesting addition. I'm reaching out in hopes that we can schedule an interview for my project. I'm eager to learn more about your background and what led to your success.
I'm happy to meet at a time and place that works for you. If you're interested in being part of this project, please reach out.
Thanks so much for your time, and I hope you consider responding. I'd love to chat with you!
Best,
[YOUR NAME]
[YOUR EMAIL]
[CONTACT INFORMATION]
Reaching Out to a Referral
When you reach out to someone after being referred, you already have an easy in with the recipient. It's wise to bring up that mutual connection. You can talk about the individual who referred you and their experience with the email recipient.
Subject: Referred by Walter Black
Dear Mr. Leuschek,
My name is [YOUR NAME], and I work with Walter Black, whose website your firm recently helped revamp. Walter and I have collaborated on many projects throughout the years, and he suggested I reach out to you for something I'm currently working on.
I acquired a new company, and its e-commerce platform is in dire need of an overhaul. I've looked at your portfolio, and I believe that we can create something great together. If you're interested in discussing this with me further, please reach out at the email or phone number below.
Thanks for your time, and I appreciate your consideration.
Kind regards,
[YOUR NAME]
[YOUR EMAIL]
[CONTACT INFORMATION]
Introducing Yourself to a New Team
Introducing yourself to a brand-new team is always exciting. When you get hired at a new company, you'll jump into an already established environment. A self-introduction email is a great way to show enthusiasm and break the ice with the people you'll work with daily.
Subject: Your new sales lead, [YOUR NAME]
Hello [COMPANY] sales team!
My name is [YOUR NAME], and I recently joined [COMPANY] as the new sales lead.
I wanted to reach out and introduce myself. I'm excited to join this company and join you as we smash upcoming sales goals.
I hope to have some one-on-one time with everyone, so please schedule a meeting in my shared calendar below. I'm excited to meet you all. Thank you for your time, and I look forward to introducing myself to everyone in person.
Cheers,
[YOUR NAME]
[YOUR EMAIL]
[CONTACT INFORMATION]
[LINK TO CALENDAR]
Introducing Yourself to a Coworker
When a new employee enters the mix, introducing yourself in an email can help them feel at ease. It's your chance to start on the right foot and connect before they enter the fray.
Subject: Introduction: [YOUR NAME]
Dear Ms. Sinurat,
I hope you're doing well and finding the transition into [COMPANY] a smooth one. My name is [YOUR NAME], and I wanted to introduce myself to you. I'm a member of your marketing team at [COMPANY], so we'll be seeing a lot of each other when you get into the office.
I would love the opportunity to welcome you personally and discuss how we can work together and be successful. Please let me know if you have time to arrange a meeting. You can reach me at my email or phone number below.
Thanks so much, and welcome to the [COMPANY] family!
Sincerely,
[YOUR NAME]
[YOUR EMAIL]
[CONTACT INFORMATION]
Introducing Yourself to a Potential New Client or Business Partner
Finally, we have an example of how you can introduce yourself to a new client. In this case, these emails are crucial to the success of your professional relationship. An email introduction can help the client rest assured that they're in good hands.
Subject: Your contact at [COMPANY]: [YOUR NAME]
Hello Mr. Jones,
My name is [COMPANY], and I will be your account manager at [COMPANY]. I wanted to formally introduce myself and ensure you have all my contact information.
We're all very excited to work with you. As an account manager, I am your go-to person here at [COMPANY], and I'm always available to help with anything related to your service. I would welcome the opportunity to discuss your needs and our ongoing relationship.
Please get in touch and let me know when you're available to have a meeting. Thank you for your time. If you have any questions or needs, I'd be happy to help!
Kind regards,
[YOUR NAME]
[YOUR EMAIL]
[CONTACT INFORMATION]
Conclusion
Now that you know how to introduce yourself in an email, it's time to start drafting your own. If you need some help, refer to our tips and samples for inspiration.
Prepare, be confident, and hit the send button. You'll be happy with the response!
The post How To Introduce Yourself In An Email (Strong Examples) appeared first on Career Sherpa.