Using ChatGPT to help with your job search isn't cheating. It allows you to focus your time on the things that really matter, like interviews and conversations.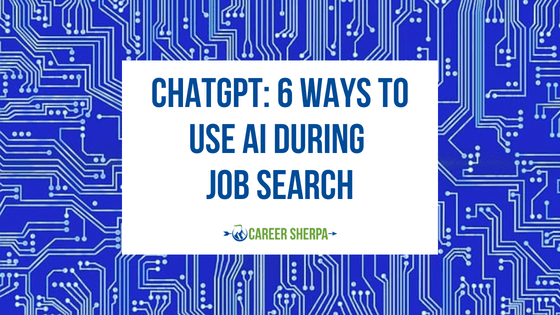 In this article, you'll see how to use ChatGPT to help you overcome some of the hurdles in your job search so you can focus on talking about your skills and successes.
You shouldn't be wasting time endlessly crafting emails or cover letters. This is where ChatGPT comes in. It's a powerful research assistant that will generate results that you can then validate and personalize.
Your strength and skills are in doing your job. Many of the things you need to do for your job search may not be in your wheelhouse. Get the support you need by using an artificial intelligence tool like ChatGPT.
Quick Overview of ChatGPT
OpenAI introduced its ChatGPT system. This is a machine learning system developed for natural language traffic. It can mimic human conversations and can carry on a conversation with people. ChatGPT can adapt to the conversation and learn to respond to certain messages. It pulls its answers from publicly available information. The vast majority of its data is from before September 2021.
To get started with ChatGPT, you need is to register for a free OpenAI account. There is the option to upgrade to a paid membership which allows you to get faster responses, and log in during peak usage times.
There are other AI tools. For example, Microsoft's Bing now has an AI chatbot. You can expect to see more of these moving forward.
Tips For Getting The Best Results
Before you use ChatGPT or any AI chat tool, it's important to know the secret to getting good results. The better your question (known as a prompt), the better your results will be. To help you create better prompts, keep these things in mind.
Treat Your Request As A Conversation
When writing your prompt, pose a question you want it to answer. As we often need to do when talking with a human, you may have to ask follow-up questions to get a more precise answer. Consider your prompt as the beginning of your conversation. (This is different logic than you use when searching Google.)
Use Descriptive and Specific Prompts
The more specific your prompt, the better the results. Remember the who, what, where, when, and why of writing. For example, if you using ChatGPT to help you write an email, specify the tone or "voice" you want it to use. This could be formal, friendly, or even use a character you want to emulate.
Specify How You Will Use The Information Provided
When you ask your question, explain how or where the information will be used. For example, tell ChatGPT you want it to create interview questions, a cover letter, or LinkedIn About section. Providing context helps ChatGPT provide the correct response.
Ask For More
If you aren't happy with the response from ChatGPT or want to see additional answers, ask it to show you more or tell you more. Or you could ask it to expand the answer.
Experiment With Varying Questions
Try asking your question a couple of different ways to see if the response is different or better. Remember, the more detail you add, the better the response.
How To Use ChatGPT For Job Search
Consider ChatGPT your research assistant. It will save you time scouring the internet for answers to your questions. It also is extremely helpful for creating first drafts or outlines for emails, cover letters, resume content, and interview answers.
1. Use AI To Get Unstuck Writing
Have you ever wanted a template to help you write an email? Or maybe you're not sure what you should include in your cover letter to show you are qualified for the job. ChatGPT is a helpful tool to get you started. Of course, you will need to edit your final work but it takes some of the angst out of getting started.
In this example, the query asked to write an email to Jim Smith a data analyst asking for an informational interview to learn more about the work he does at Microsoft.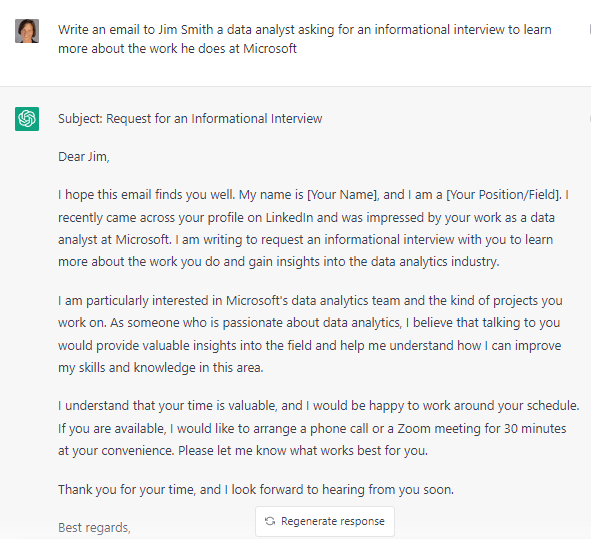 2. Research Alternative Job Titles
In this example, the prompt was to help identify job titles similar to Fundraising.
There are a couple of reasons why job seekers might want to search for alternative or similar job titles. First, sometimes you can't find jobs because you aren't searching for the correct job title. Second, you may want to broaden your job search so you can apply for more jobs.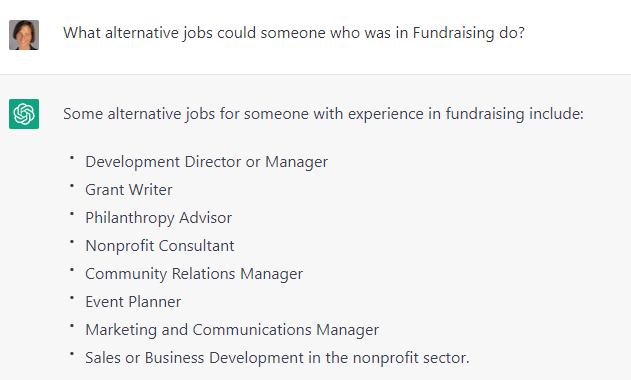 3. Uncover Similar Jobs In A New Industry
Let's say you want to switch industries. The obvious question is, what can I do there? In this prompt, the question was to identify job titles that are similar to product manager in the banking/finance industry.
If you no longer love your job, sometimes changing industries is a good way to pivot. You'll use a lot of the same skills but in a different environment. But you first have to know what job titles to target.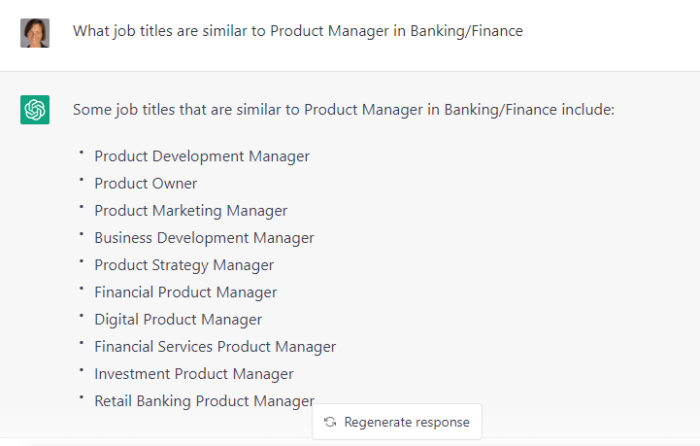 4. Create A List of Target Companies
In this example, I am looking for companies in clothing and retail that have roles in sourcing and product development management.
It can be challenging to find lists of companies within a certain industry. This is at least a starting place to help uncover some companies to be exploring.
This would also be a good time to use "more" or "expand" to show more answers. And of course, you will have to research these companies and review their careers page.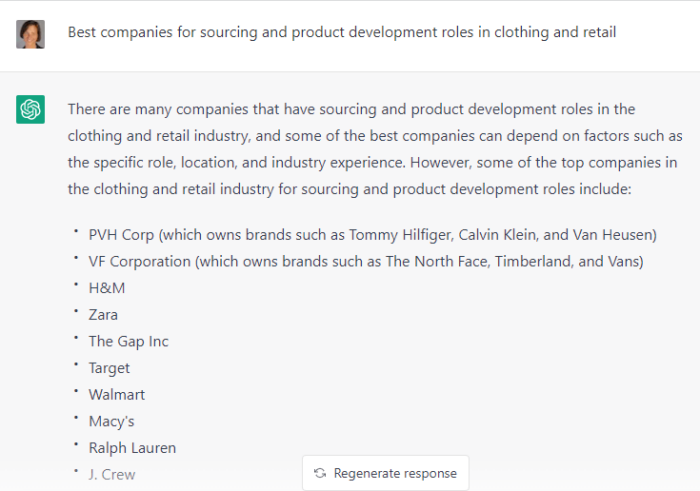 5. Craft Questions To Ask During An Informational Interview
In this example, I asked for questions to ask during an informational meeting to learn more about what an aerospace engineer does.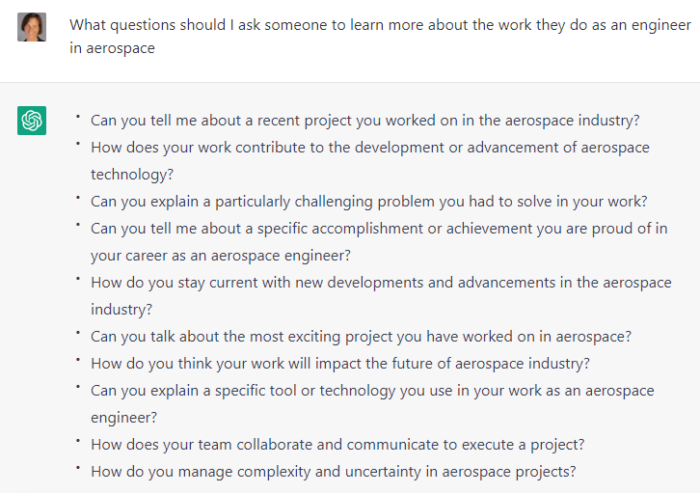 6. Predict Questions You'll Likely Be Asked During Job Interview
One of the best ways to prepare for a job interview is to practice answering questions… but what questions? Below you'll see how to ask ChatGPT what questions to expect.
I asked ChatGPT: What behavioral job interview questions can I expect for this job? [inserted job posting]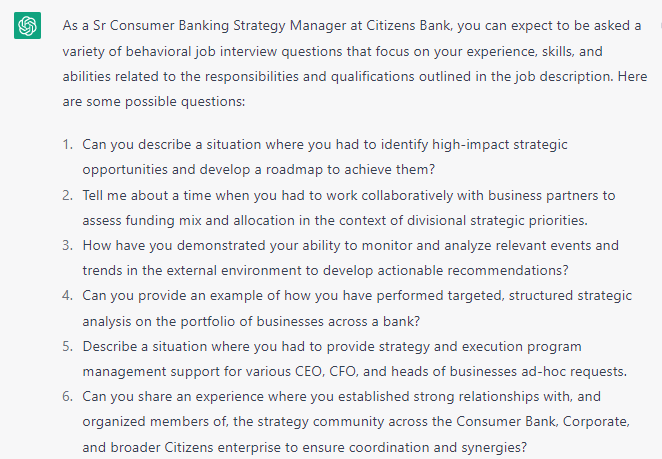 WARNING
ChatGPT is not an authoratative source. In fact, it doesn't reference the source of information at all. Therefore, you'll want to verify the accuracy of the information it provides.
Do not use the raw output as your final product. In other words, don't cut and paste ChatGPT answers as your own work. Always edit responses to make them sound more like your voice before using them.
There are tools that can identify content that is likely created by AI. They are called AI content detectors or ChatGPT detectors. If you don't edit the response from ChatGPT you should know that your work may be called out.
Wrapping It Up
You can spend more time having interviews and conversations rather than conducting research and drafting emails. Using AI as a research assistant allows you to focus on talking about what you enjoy doing and what you are good at!
The post ChatGPT: 6 Ways To Use AI In Your Job Search appeared first on Career Sherpa.