The job market can be competitive, so it's important to stay ahead of the game by using the best job search tools and technology to manage your activities and stay on track. If you are looking for a way to better systematize, organize or execute your job search, you'll find it below.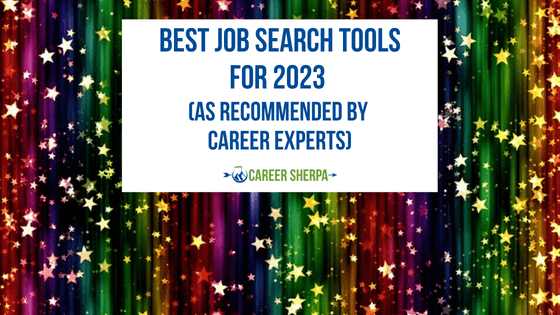 In this article, I've asked trusted job search advocates for their list of top job search tools and technology. These recommendations will help you stay organized and productive and manage your job search like a pro!
In order to capture a wide range of needs and interests, I clarified that the tools and technology could fall into any of these categories:
Job tracking
CRM (contact management)
Organizational tools
Email tools
Research tools
Interview practice tools
Home office essentials
Well-being tools
Many thanks to my colleagues and friends for your contributions!
Tools and Technology for Job Search
There are thousands of productivity tools, applications and extensions to streamline and simplify your job search. Some tools you may be familiar with because of your previous work experience, while others you may never have needed to use. Many are free, but some technology is worth a small investment.
No matter what type of job you are looking for next, you will want and need to have a system to help you keep track of the jobs you apply to and the people you meet. You'll also want to know about tools that help you get things done faster and more efficiently. And finally, you'll need to make sure you present yourself professionally.
Before you begin, understand that these are suggestions. You may not want to use any of these tools. But some may be exactly what you need.
If I was going to pick one I would say organisational tools which can be useful for tracking not just key pieces of information but any pain points. Any system, whether something like Jibber Jobber or even a basic Excel sheet, will flag up performance data which may highlight a pattern and a job seeker can use that information to tweak their approach.
E.G if they aren't getting responses to applications at the first stage – do they need to adjust their CVs or arrange an informational interview? Then make those changes and monitor results.
The most important thing is to stay open and learn from your experiences as you are going along.
This is a list of job search tools and productivity tools.
Google Job Search
LinkedIn
In general, there are a wide range of job search resources and tools available on the site Job Search Journey. To spotlight a few relevant ones:
1. Job Search Scheduling Guide: This guide includes tips on common job search tasks, demonstrates how to allocate time for each task, and provides space for job seekers to track their activities.
2. Pre-Interview Guide and Workbook: This guide and workbooks includes a schedule, common questions, case interviews, and tips on how to conduct pre-interview research.
3. Conducting Job Search Research: This tool breaks down ways to gather information on a company, role, or industry. It also shares research sources and shares more on how to conduct informational interviews — with question examples and a script!
SalesQL Browser Extension
I like having clients use identify addresses for specifically targeting hiring managers and recruiters. The software allows users to take a standard LinkedIn page, enter into SalesQL, and it will show the emails and phone numbers! Then they use that to tee up a cold messaging email to the decision-makers in hopes of either gaining an information interview, building a connection or even sending off a resume!
Salary calculator
Many people have no idea what their skills are worth in the marketplace. They often tell an employer their exact salary without being aware of what employers offer for that role. In 2022, savvy job hunters found employers needed to offer a significant pay increase to get people to change and accept new jobs. Knowing what your value and worth is essential to your job search success.
I recommend you use the free salary calculator on Payscale. Be aware that the recent data for all the pay increase employers offered in 2022 won't be incorporated yet into salary data yet. So, take the salary range it offers and increase it by 10-20%.
Job seekers send a lot of emails– to both warm leads and cold contacts sourced from sites like LinkedIn or Hunter.io. When you do not get a response from an email, it can create self-doubt. Using an email tracker will tell you if the person actually received and read your email. This information can be powerful as you can tweak and adjust your strategy based on the email open status.
Meditation for skeptics app. Remaining centered and calm makes every job search suggestion more effective!
Contact Management / Networking
Your Smart Phone — Populate your calendar or alarms with names/numbers for career conversations. When it's on the planner or set to a timer, you are more accountable for following through. Integrating the phone number or Zoom link with the reminder makes it easier, eliminating steps and (hopefully) bypassing excuses.
Interview Prep
Riveter — offers virtual video interview prep, free practice tool and events. Not everyone has an interview buddy. Now you can find one!
Your Smart Phone — Record yourself answering the most common interview questions. play it back to uncover opportunities to tell a story, weave in an accomplishment, tie it back to the hiring organization, and more. Also, watch for "ticks and tells" that reveal your discomfort or emotional leaks.
Email Tools
Research shows people are more responsive to email than many other forms of messaging, so it makes sense to try to find an email address for potential connections. You can uncover emails for outreach by checking people's contact information on socials or by using a tool like Hunter.io or Mailscoop.
Home Office Essentials
Noise-cancelling headphones, preferably with a microphone. Job seekers don't always have the benefit of a quiet space for calls or pre-screen conversations. Noise-cancelling headphones and a reliable means for the person on the other end of the conversation to hear you can make ALL the difference!
Well-Being
Use timers or alerts to pull yourself out of activities that can easily become a time drain. Don't get stuck going down a black hole on socials, skimming job boards, or wordsmithing your resume. Set a timeline, put in focused effort, and step away when you've hit your time limit. Once you've extracted yourself, determine if you're making traction and if the activity deserves more time.
LinkedIn
I'd suggest people consider LinkedIn like Google for networking. You can and should search on LinkedIn for non-job search-specific keywords in the search bar (e.g. hiring), and also search for specific events using keywords.
Using a free project management software has been life-changing for myself, my team, and my clients, too. You can organize your outreach in a visual way, setting reminders and automations to help move your conversations and follow-up forward, seamlessly. I'm not a sponsor but I certainly wish this was around back when I was setting up archaic Excel Docs to manage my career activities between layoffs. Trello will give you Traction!
Wish you could know if that recruiter read your email? You can with Saleshandy. There's enough that's unknown in the job search, but whether your emails went unread doesn't have to be one of them.
The LinkedIn Post Ideas Generator
Posting on LinkedIn has many benefits. Recruiters love to see activity from a candidate because it demonstrates their relevancy, and involvement in their career & industry, and shows they are most likely more easily reachable than other less communicative candidates.
The problem is that it's hard to come up with ideas for posts.
The LinkedIn Post Ideas Generator provides 3 different ideas and prompts for posts every day. It's as easy as a button click. Use the idea to come up with a post that your network will enjoy and engage with.
Zoom-ready technology
With so many interviews still being conducted via Zoom, make sure you're tech setup is ready. A one-time investment will go a long way — especially if the jobs you are interviewing for are remote.
I've found these tools super helpful:
– Ring light. Amazon sells an assortment of them and they are pretty inexpensive. The right lighting is critical.
– Camera. If you are seeking remote jobs, you might want to spring for a better camera if the camera quality on your computer is grainy.
– Microphone. Again, if your computer's microphone is below par, purchase a good one (still pretty inexpensive on Amazon).
– Virtual background. If the scene behind you/your desk is unorganized or messy, consider a free Zoom virtual background.
A BRAND NEW, AI-driven chatbot trained on massive amounts of data. Ask it anything. It will help you solve just about any job search challenge you can imagine, for FREE. See how to use it for job search here.
If you're anything like me I come across tons of articles I want to read daily and leave tabs open. Pocket is a free chrome extension allowing you pocket those articles — relevant to job search, content you want to write about and/or send along for value adds (as a P.S.) in email follow ups, thanks yous and to your network.
Ed Han, Cenlar FSB | LinkedIn
I recommend job seekers create an account on this free platform, and is available on their website or as a mobile app for both Android and iOS. I would classify this as an organizational tool.
Calendly integrates with Google and Outlook calendars, and creates a link you can add to your email signature to facilitate scheduling. The recipient can use it to schedule events with you. This is great for both interview scheduling but also for networking events, informational interviews, or the like.
Many recruiters swear by it, as they will often send a link to job seekers to schedule initial phone interviews.
Fast Company wrote this article about how to use this Chrome extension to quickly import data from other websites.
Many of our career colleagues are recommending the Huntr chrome extension. They like its utility and simplicity.
Get free help choosing which of your photos would make the best profile photo. With Photofeeler you'll get feedback on which of your photos makes you look the most confident, likeable, and influential. You can also use Photofeeler to choose photos for your social and dating profiles.
Why get feedback from strangers on photofeeler rather than just asking your friends? Read the answer here: https://blog.photofeeler.com/linkedin-tinder-profile-photo-feedback-opinions-input-from-friends/
Look more qualified with a professional email signature that includes more information and that can graphically fit with your branding. WiseStamp offers designer email signature templates with lots of potential add-ons including live links and banners, and their all free.
You don't need to be a graphic designer to create a professional image for yourself on and offline. Canva is easy-to-learn software that has customizable templates for all of your needs – business cards, social media headers and posts, presentations, videos, websites . . . There are free and paid versions, and all allow you to change text, color, photos and other graphic elements and more. You can even add animation. Canva is really comprehensive.
Data Axle, formerly ReferenceUSA, provides an Employee Directory of decision-makers inside your target companies (which you can use to find a contact name or research these leaders to prepare for your interviews).
In addition, it offers career and industry insights through an Ask the Expert feature, where you can select a topic (such as Digital Transformation or Modeling & Predictive Analytics) to read expert insights. These can help you understand key terms in your field and the trends you might see in your industry, which could be valuable intelligence in your interview preparation.
Best of all, the Employee Directory is free at public libraries with your library card and the other information (such as both Ask the Expert and Data Cards providing specific business information by keyword) is free with a 7-day trial.
PRO TIP: Look good on every video call.
I've tested this camera and absolutely love it. It gives more depth and the ability blur the background at various levels among other things. It adjusts the lighting REALLY WELL so you don't have to worry about ring lights or anything thing else. It's so small it travels well and the set is super simple setup. With my link (above) you can get $25 off. I love it.
Managing my client roster is crucial for how show up to support them. AirTable, in the way that I use it, gave me a low-effort way to create a client database with the key information and dynamic sorting ability to allow me to easily track clients through our work together. While I don't consider myself a power-user, I know that there are capabilities beyond what I'm currently doing that I can grow into and I can see this tool having potential to support managing the networking and application tracking necessary for an effective job search.
Grammarly is by far my favorite writing tool. It keeps me honest. Yes, it will pick up your typos and grammatical errors, but I like that it will often prompt you to omit filler words ("really" is one that I admit I sometimes use) and make suggestions on your tone. I use the paid version, but the free version has many features that will help your writing.
This tool takes the pain out of writing the same outreach over and over again. Simply create a text shortcut and the message will display wherever you wish — from email to LinkedIn — and is ready to be customized!
When it comes to staying organized, my go-to resource is my Google calendar. Setting recurring time slots for important job search activities will hold you accountable. While this isn't a tool or technology, I'm sharing my time-blocking strategy.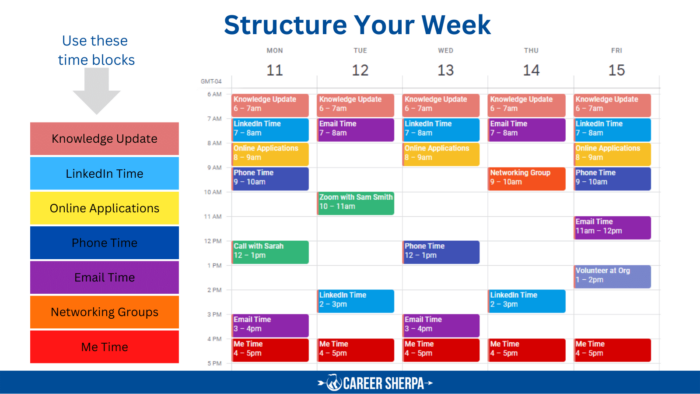 Wrap Up
As you can see, there are a lot of job search tools that can support your regular activities. Try adding one or more of them to your daily routine and see how you become more productive.
The post Best Job Search Tools for 2023 (As Recommended by Career Experts) appeared first on Career Sherpa.