If you''re wondering what career is right for you or thinking about making a switch, wanting to know what entry-level jobs pay well is completely normal. Compensation is an important part of any career, and knowing what''s on the table can help you make a decision!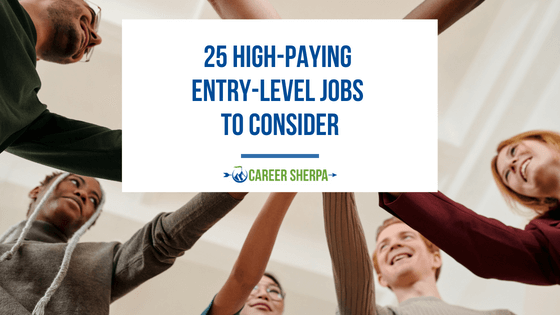 This list of high-paying entry-level jobs will give you plenty of options across different industries.
What is Considered Entry Level?
Entry-level jobs are those that don't require any previous work experience in the industry. They're, quite literally, an entry into a field. These jobs are at the bottom of the corporate ladder and are often synonymous with low wages.
However, that's not always the case.
There are plenty of high-paying entry-level jobs available. Many industries start new hires at surprisingly generous salaries. This can help you get ahead of the curve while still having room for growth.
1. Financial Analyst
A financial analyst is someone who helps companies understand their current financial situation. They work hard to collect, review, and analyze financial data. In many cases, analysts will present their findings to key decision-makers.
This high-paying entry level job is an important one. It helps companies make sound financial decisions, ultimately guiding the business forward.
An entry-level financial analyst can make just shy of $48,000 a year. However, that salary rises pretty quickly. As you gain experience, that range can double and even become a six-figure job.
2. Social Media Specialist
Social media isn''t going anywhere, and no company can succeed without an online presence. A social media specialist helps improve a brand's reputation. They run accounts on multiple platforms, create unique content that captivates audiences and interact with customers directly.
They're an excellent point of contact with a target demographic, and their work helps brands stay relevant in a media-heavy world.
Specialists can start with a salary of around $46,000. However, this entry-level job can branch out into others that make significantly more.
3. HR Specialist
An HR specialist earns in the neighborhood of $52,000 a year.
This job is another one that's important to the overall operations of an organization. HR stands for human resources, AKA: The most valuable asset a business has!
HR specialists handle all matters revolving around employment. For example, they take care of payroll, work with recruiters to fill positions, process benefits paperwork, and more. They may also onboard new hires, handle grievances, and act as a liaison between employees and upper management.
Specialists work under high-level HR executives. They typically manage the everyday tasks of the department and handle administrative work.
4. Copywriter
Copywriting is an excellent entry-level job if you have a way with words. Copywriters produce the text material you see on web pages, print advertisements, product packaging, and more. A copywriter creates text copy, plain and simple!
This job is always in demand and can be done remotely as well. It doesn't matter what industry a company works in. They'll likely need high-quality content to market their business and communicate with customers.
A copywriter can make an entry-level salary of around $78,000. However, there is the potential for higher compensation if you pursue this as a freelance job. That means this has the potential to be one of the highest-paying entry-level jobs around!
5. Real Estate Agent
A successful real estate agent could bring in around $98,000 annually. But with this field, it all depends on what you sell!
As you probably know, a real estate agent is someone who works to market and sell houses. But the job is more complex than it seems at face value. In addition to creating listings and marketing content, agents must guide buyers and sellers through negotiations. There's also the responsibility of handling paperwork, working with banks, and ensuring that sales go smoothly.
Becoming a real estate agent requires proper state licensure, but the only barrier to getting that is passing the exam and having a high school diploma. Successful agents can earn significantly more than the average salary, and some even go on to open brokerages.
6. Sales Representative
Like real estate agents, sales representatives have tons of flexibility in their earnings. The average salary is around $69,000 a year. However, this high-paying entry-level job typically has a commission-based compensation plan, creating opportunities to earn much more.
The entry-level job requires you to sell products and services to your company's target demographic. Depending on what you're selling, it may require in-depth prospect research, months of developing sales pitches, and continual customer service to maintain high-value accounts.
7. Executive Assistant
Ask anyone who works around successful C-suite executives, and they'll tell you that their assistants are who keep businesses going! An executive assistant is a right-hand individual for a CEO or other influential business executive. They're responsible for taking care of the details.
Assistants usually spend their days managing schedules, setting up appointments, handling administrative duties, and completing any other task the executive might need. It's a demanding job, but it can pave the way for many opportunities moving forward.
The average pay for an executive assistant is around $44,000.
8. IT Specialist
An IT specialist, also known as an IT tech, helps to keep computer and software systems running smoothly. They're the "tech experts" of an organization working to ensure that a company uses every ounce of computer resources.
Specialists will install new systems, maintain networks, and handle technology requests from multiple departments. As a specialist, your day may include helping other employees fix computer problems to upgrading entire tech stacks. As you can imagine, that level of impact on the business makes this a high-paying entry-level job. For their efforts, IT specialists earn roughly $65,000 a year.
9. Research Associate
Becoming a research associate is something that many students look into while they're finishing up their education. However, it can be a rewarding entry-level job even if you're not currently pursuing a degree. On the lower end, salaries can be around $58,840 a year. That figure can climb substantially based on your educational background.
As the job title implies, a research associate is responsible for working with professors and professional academic researchers. Associates typically sift through data, review findings, create reports, and make data more presentable.
10. Environmental Engineer
Environmental engineers have an important job that will likely grow in demand in the future. This job is all about improving the environment. Engineers typically work for government agencies to explore and implement sustainability measures.
That might include fine-tuning recycling efforts, working with waste management, taking steps to mitigate pollution, and more. Salaries start at around $95,000, making it one of the highest-paying entry-level jobs available.
11. Content Marketing Specialist
A content marketing specialist can earn around $48,000. But like other positions, salaries can vary.
As a content specialist, your job would be to create content that supports a company's digital marketing efforts. The position is a little more focused than general marketing. The priority is on digital content that helps sell products or services.
You may find yourself creating blog posts, digital ads for marketing campaigns, and more. Companies often invest heavily in digital ad campaigns, so content marketing specialists will find themselves busy no matter the season.
12. Nurse
Here's a rewarding job that can pay well from day one. Becoming a registered nurse does require specific training and certification. But once you get that, you can get a job anywhere!
Starting salaries are around $52,000 a year. However, that can quickly grow to about $70,000 within a few years. Many nurses happily stay in the same position for many years. Though, there are opportunities to gain more certifications and higher pay.
A nurse's job is highly varied. They're mainly responsible for caring for patients and assisting physicians.
13. Physical Therapist
Physical therapy is another profession in the medical field. This job focuses on helping patients improve mobility and physical function. It's less invasive than other forms of treatment, making this entry-level job an excellent choice for those who don't want to get into the intense aspects of healthcare.
Becoming a physical therapist requires an advanced degree. Once you get that, you can enter the field and make around $62,000 a year. Not only is this a high-paying entry-level job, but it also typically comes with good benefits and the salary increases with experience. This creates a great balance between stability and creating plenty of room to grow.
14. Accountant
Accountants can enjoy a starting salary of $72,000 or more. Every company needs accounting professionals, so this is a job with a fantastic outlook going into the future.
The job is highly varied. Depending on where you work, you may be responsible for handling corporate invoices, salaries, doling out bonuses, etc. In most cases, accountants review expenses, manage the logistics of tax season, and provide information about a company's financial health.
This job has many ways to proceed. Accounting is an entry-level position, but you can quickly go on to specialize in investments, corporate finance, and more.
15. UX Designer
We live in an increasingly digital world. Software is everywhere, and developers need UX designers to ensure it looks and functions perfectly.
A UX designer is in charge of the user experience. As a designer, you would create the user interface, manage workflows, fine-tune functionality, and more. It's more than just choosing the right colors and buttons. It's a fairly low-stress job while still being complex, and it pays well!
You could make $95,000 a year as an entry-level UX designer. The job outlook is excellent, too, thanks to the ubiquity of software, apps, and websites.
16. Investment Associate
An investment associate typically works for financial firms, banks, and other institutions that deal with monetary investments. The financial world is ripe with opportunity, making this one of the best high-paying entry-level jobs on the list. With this job, you can earn around $63,000 a year.
But what will you do?
Investment associates are primarily responsible for analyzing financial data. They also conduct research, do presentations, handle administrative duties, and manage client transactions. The goal is to assist high-level investment professionals in achieving the highest ROI possible.
17. Marketing Specialist
There's a lot of money in marketing. From traditional print advertising to digital marketing, specialists are in high demand. This job has an average salary of $63,000, but that entry-level salary can quickly double as you gain more experience in the field.
A marketing specialist is one member of a larger team. You work as one piece of the puzzle to complete large-scale marketing campaigns and small-scale projects. Whatever you're working on, you may develop new advertising concepts, manage publishing logistics, work with clients to understand their needs, and more.
18. Mortgage Assistant
Mortgage assistants play a part in helping families find their dream homes. It's not as glamorous as another high-paying entry-level job like a real estate agent, but it is rewarding nonetheless.
In this job, you would help budding homeowners finance a purchase and get the best deal on a piece of property. The position requires a ton of organization and many hours of research. Assistants also have to manage a mountain of paperwork.
This job pays around $60,000 a year, making it a great entry-level job that pays well. Some jobs may also have opportunities for bonuses and rapid growth.
19. Management Consultant
The average salary for a management consultant is roughly $88,000 a year. This job is another one that can make a big difference to companies, big and small. It's an impactful career that organizations are willing to pay a lot for.
As a management consultant, your job would be to help businesses improve. You would look into an organization's daily operations, find areas that need improvement, and suggest how a company can implement change.
Not only is this one of the highest-paying entry level jobs out there, but the earning potential can grow significantly as you get more experience.
20. Insurance Claims Adjuster
Getting into the world of insurance adjusting isn't difficult. All you need is a high school diploma. Some states require special licensing, but there's no need to earn a degree to get it.
A claims adjuster performs in-depth research about a claim. They review records, conduct interviews, and more. The goal is to assess the damage, check if the claim is legitimate, and decide whether the insurance company should reject or accept it.
It's a serious job, but it offers many opportunities for advancement. The annual salary is about $59,000 per year.
21. Paralegal
Paralegals earn around $60,000 a year. It's a fantastic entry-level job that pays well for those studying law. For many lawyers, it's the first job they get in this field.
The primary responsibility of a paralegal is to perform the administrative tasks required by attorneys. That includes filing paperwork, preparing courtroom presentations, and more. They also conduct research and interview clients.
Paralegals do a lot of the heavy lifting for lawyers. Without them, most professionals in the legal field would not be as efficient as they are. That's why this is such a high-paying entry level job.
22. Database Analyst
This job requires in-depth knowledge of technology and computer databases. Companies use databases for everything from managing financial data to keeping customer information organized. Whatever the case, they need analysts to make sense of it all.
An analyst spends time inputting figures and taking steps to maintain the database. That could include building programs, separating data in a way that's more readable, etc. The work you do in this job can help companies make crucial decisions about everyday operations and future investments.
This is a high-paying entry level job because of the crucial role it plays. A database analyst can earn an average salary of $86,000 per year.
23. PR Assistant
PR stands for public relations. Most companies have a public relations department. They're responsible for keeping the organization in the public's good graces, managing their press releases, public image, and more.
As a PR assistant, you would assist the higher-level PR executives. In most cases, the job involves conducting research, putting together presentations, managing communications between clients, and more.
For that work, a PR assistant earns around $45,000 a year. Like other entry-level assistant positions, there is room for advancement. Many assistants go on to climb the corporate ladder and even become executives.
24. Data Scientist
Here's a position requiring a good amount of education to succeed. We live in a time of "big data." Companies gather information left and right, resulting in a treasure trove of data they don't know how to use.
A data scientist is responsible for making sense of that information. They organize, analyze, and interpret data. Your work in this field helps companies make critical decisions. The final results of your work are actionable insights that companies can put to good use.
A strong understanding of statistics and data models is a must. Starting salaries for data scientists are around $65,000. Not only is it in demand with room to grow, but it''s a great job for introverts.
25. Software Developer
Our final high-paying entry-level job is as a software developer. Software is more prevalent than ever. It's not a business that's limited to tech companies anymore.
Now, companies need software developers to create applications for both internal and external use. This is a high-demand job, and there are many ways to start your career. You can begin with game development, work with dedicated software companies, or be the sole developer for a company that needs first-party apps.
Whatever the case, there's plenty of room to grow. This job pays a starting salary of around $65,000 a year, but you can easily reach six-figures as you gain experience.
Closing Thoughts
Now that you''ve seen some high-paying entry-level jobs, it''s time for you to decide if any appeal to you. Even if the exact position isn''t the right fit, maybe the industry offers another option that is!
The post 25 High-Paying Entry-Level Jobs To Consider In 2022 appeared first on Career Sherpa.