The best jobs for former teachers all take advantage of their skills and experience. And if you're an ex-teacher, there are many options out there!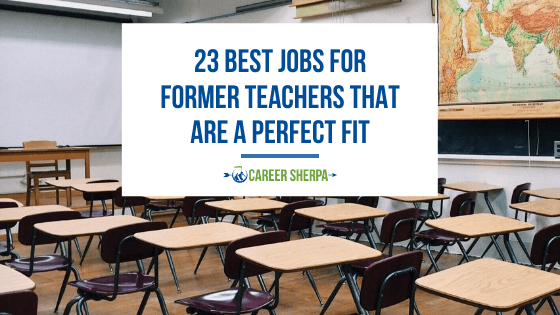 Read this guide to learn about each of the jobs you should consider if you're looking for something new after teaching.
1. Project Manager
Project management is an excellent job for former teachers. Many of the skills used in the classroom apply here.
This position is quite versatile, giving you the chance to work in a wide range of settings. Most organizations need a skilled project manager, from large corporations and nonprofits to government agencies and familiar educational environments.
But what exactly do they do?
In this role, you're responsible for overseeing large-scale projects that fulfill an organization's objectives. Essentially, your job is to delegate tasks, strategize with a broader team, set deadlines, and more. The goal is to keep the project moving smoothly so that you can deliver a final product on time.
On average, project managers earn in the neighborhood of $88,000.
2. Child Protective Service Worker
As a teacher, you get very familiar with the children you educate. In most cases, you end up learning a lot more about them than intended. Many teachers learn to read body language and identify issues at home before they even become a topic of discussion.
Those skills come in handy as a child protective service worker. Also known as a CPD worker or practitioner, this job is important and a good fit for former teachers. You're tasked with ensuring the health, safety, and well-being of children.
CPS workers often investigate claims of abuse or neglect. They also work around children and families who experience tough times. The average salary is around $47,000 a year. While not the most lucrative job, it's certainly a rewarding one.
3. Library Assistant
Here's another job that former teachers can easily transition to after leaving the education field. Library assistants have an average hourly pay of about $14.70 and a yearly salary of about $35,000 a year.
While you have to get a degree to become a librarian, there's no such requirement for assistants. You get to work in the same great environment without years of additional education. In most cases, ex-teachers can land this job with their educational work experience.
As a library assistant, you will help with the daily operations. That means helping the librarian curate collections, assisting visitors, and throwing events.
4. Admission Counselor
Becoming an admission counselor is an excellent career for former teachers. The position requires you to be invested in the future of students, but there's no active teaching involved.
Admission counselors typically work for colleges and universities. They may sit in on admissions panels making decisions about applicants. However, they usually advocate for the school that employs them.
For example, you might find yourself visiting high schools or college fairs to speak with potential students. Not only are you tasked with talking your school up, but you help students figure out if the institute in question is a good fit for their career goals.
On average, admissions counselors make about $43,000 a year.
5. Curator
The salary for a curator can vary wildly based on where you work. On the lower end, you might earn an hourly wage of $16 to $17. However, more prestigious establishments could offer yearly salaries of $60,000 or more.
What does a curator do? In this position, you would be responsible for managing a collection of items. It could be works of art, historical artifacts, and more. Anything that's put on display in a gallery or museum needs a curator to take care of the collection.
Curators also acquire items and inform visitors about the collection. Ex-teachers flourish in this job because of their in-depth knowledge and ability to spread information.
6. Corporate Trainer
Corporate training is a fantastic way to pivot out of the classroom. As a former teacher, you can tap into your existing skills while moving away from the world of academia and into the realm of business. Your job is to train employees and help them push their skills to the next level.
This job requires you to work closely with others, identify students' strengths and weaknesses, and find creative ways to instill new concepts. There are a lot of similarities to traditional classroom teaching. However, the topics are different, and you're working primarily with adults.
Corporate trainers are always in demand, so the outlook is good. The average salary is around $62,000 a year.
7. Event Planner
As a teacher, you likely set up events quite often. Not only did you put on class plays, parties, and other social gatherings for your students, but you also organized the curriculum. That takes excellent organizational skills, which you can easily translate to the world of event planning.
Event planners work to turn a client's vision into a reality. Whether it's a wedding, baby shower, or a raging birthday party, your job is to make it happen. To do that, you must organize every detail and ensure that everything goes off without a hitch.
If you're a detail-oriented person and a former teacher, you can turn your experience in the classroom into an event planning career that earns you around $50,000 a year.
8. Editor
Being an editor demands attention to detail and the ability to scrutinize someone else's work. Sound familiar? Chances are, you've done that kind of thing pretty frequently as a teacher.
As an editor, you can use those skills to publish amazing work for the masses. Editors work with a wide range of publications. Whether it's an online blog or a printed magazine, someone must proofread everything.
It's not just making grammatical and spelling corrections. Editors also help to guide the content in the right direction. In many cases, they'll also strategize to develop new pieces that cater to the publication's readers.
Editors typically make $50,000 or more a year. This position also made the list of our best remote jobs.
9. Personal Finance Advisor
Personal financial advisors make about $67,000 a year to help others figure out what to do with their money.
That's an oversimplification of an advisor's task, but developing plans around spending and saving money is the brunt of their work. The goal is to help clients handle their money more strategically, ensuring better financial health in the long run.
Financial planning is one of the best jobs for former teachers because it requires many of the same skills. Not only do you need analytical skills to establish goals and strategies, but you must know how to communicate those ideas effectively.
10. Curriculum Writer
There's no one better to design a curriculum than a former teacher! You have firsthand experience of what it's like to teach core material to students. During your tenure, you saw what works and what doesn't. That experience can make a world of difference in this position.
A curriculum writer develops teaching materials and lessons. They perform research and evaluate lesson plans to maximize efficiency.
You can end up working for many different entities. Some curriculum writers work for school districts, creating plans for multiple schools that serve thousands of students. Others end up working for private companies. Either way, the salary is generous at $66,000 or more a year.
11. Career Counselor
Career counseling is an important yet overlooked part of the modern education system. Many people interested in education focus on teaching, but counseling is a great way to help students beyond the classroom.
The experience former teachers have working closely with students comes in handy here. A career counselor works to help students find a path forward after graduation. That includes developing strategies for higher education and figuring out what profession to pursue.
It's a rewarding career that has just as much impact on a student's life as teaching. The average salary for career counselors is around $57,000.
12. Tutor
Want to still teach without being in a traditional classroom setting? Becoming a tutor could be the path for you.
Tutors work with students privately to provide additional support and instruction outside of their standard schooling. Typically, tutors focus on one subject, helping the student overcome struggles they're facing.
Not only is this a good alternative career for teachers due to the overlap in experience, but there's also a lot of flexibility with this job as well. Tutors can work freelance, at a school, or with a tutoring company. Some even land jobs traveling and providing one-on-one education for students in exotic locations.
The average hourly pay is about $21.30, providing an annual salary of around $36,000.
13. Human Resources
This is one of the best jobs for ex-teachers, but it's often overlooked! As a specialist in human resources, you can use the communication and interpersonal skills you gained as a teacher. While the settings are different, HR specialists do many of the same things as teachers. They handle conflict, maintain a positive work culture, and more.
A human resources specialist earns about $62,000 a year. Their day-to-day life can vary quite a bit. However, most will play a role in acquiring new talent, onboarding employees, and handling every aspect of employee relations.
14. Customer Success Professional
Here's a position you don't hear a lot about when discussing potential jobs for former teachers. First off, it's not to be confused with customer support. The two jobs are similar, but customer success professionals focus on developing a positive relationship with clients and customers.
You can work in a wide range of fields. However, there's plenty of demand within the educational realm. Companies that create educational products utilize customer success professionals to ensure that schools and teachers are happy.
Who better to handle that than someone familiar with a teacher's needs?
This job requires excellent communication skills, as you must speak to clients directly. The goal is to ensure happy customers and repeat purchases in the future.
The average salary for a customer success professional is around $48,000 a year.
15. Personal Trainer
Personal trainers earn, on average, about $40,000 a year. However, there's plenty of room for growth in this field.
A personal trainer helps clients stay motivated to meet their fitness goals. No one likes to tackle weight loss journeys independently, so many people like having a trainer to provide support. But of course, your job goes beyond the teacher-like motivation.
You must also develop practical plans to help transform a client's life. That means pushing them to adopt an exercise routine, developing diet plans, and more. It's a rewarding job for former teachers thanks to their natural talents of motivation and ability to educate their clients.
16. Educational Toy Company Professional
As a former teacher, you know what students like. If you taught younger kids, you know how important play is when it comes to the overall learning process.
As an educational toy professional, your teaching experience can make a significant impact. Your skills can help you develop new products that make a difference. Alternatively, it gives you the skills to sell toys and show off their benefits.
There are many positions you could take within the educational toy industry. Many ex-teachers will flourish in the sales side of things, as they have no problem relating to the educators who buy the toys. On the sales side of things, you can expect a yearly salary of around $70,000.
17. School Administrator
Becoming an administrator is a natural career to consider after teaching. Most people who end up rising to the level of principal, superintendent, and more started their careers as educators.
The translatable skills are plentiful. Once again, your first-hand experience of life in the classroom comes in handy. You know what students need and how to make the most impact. Those are skills administrators use daily.
As an administrator, your job is to make big-picture decisions that influence learning. You can also hire new teachers, evaluate lessons, and more.
Median salaries can vary from one position to the next, but many administrators earn around $96,000 a year.
18. Museum Education Director
Being a curator isn't your only option if you want to work in a museum! Many establishments have educational programs for visitors as well.
Museums are a natural learning environment. Visitors go there to see and learn about new things. As a result, museums need someone to oversee tour guides and organize events.
That's where you come in! As you can imagine, this is one of the best jobs for former teachers due to their existing skillset. They spend time developing educational opportunities for visitors, school groups, and more. There can be ongoing programs as well as one-offs, giving you plenty of flexibility in how you want to share information.
Museum education directors earn an annual salary of about $46,000.
19. Instructional Coordinator
This job is very similar to a position discussed earlier. Like a curriculum writer, an instructional coordinator develops lesson plans. However, the primary difference is that coordinators work to develop standards that apply to entire schools and districts.
As an instructional coordinator, your job is to create educational material that positively impacts students. You'll spend your time researching new methods, trying lesson plans, and evaluating everything to find the best approach.
An instructional coordinator has an important job, and their average salary reflects that. The national median is about $66,000 a year.
20. Education Policy Analyst
Many former teachers look for ways to impact the education system on a larger scale. If you're one of them, becoming an education policy analyst is a career choice worth considering.
While instructional coordinators work to develop lesson plans, a policy analyst aims to make significant changes to the entire public school system.
As an education policy analyst, your job is to perform in-depth research on how specific policies affect students and teachers. You might find yourself working for non-profit organizations, advocacy groups, or even educators. This is a great job for ex-teachers because they have valuable insight into the very topics they'll be researching.
The average yearly salary for an education policy analyst is about $55,000.
21. Writer
Writing is one of the best jobs for former teachers, and there are many reasons why this is the case. There's also tons of flexibility in this job, and opportunities are plentiful!
You can use your subject-based knowledge to write blogs, books, and magazines. Furthermore, you can work for yourself, becoming an authority figure that attracts a broad audience. Alternatively, you can be a ghostwriter or copywriter.
The choice is up to you. Your ability to stay organized and communicate well will benefit you. As a writer, pay varies quite a bit. However, the average salary is about $52,000.
22. Educational Consultant
Here's another job for ex-teachers that offers a lot of variety. Pinning down an educational consultant's day-to-day activities can be tough, as they can be tasked with many different projects. They might do some administrative work one day while advising the creation of a textbook the next.
No matter what they're doing, a consultant's goal is to help make learning more effective.
Clearly, your experience as a teacher can be helpful in this job. Most educational consultants have to have some experience in the classroom to be successful. Your teaching skills let you advise schools, government agencies, parents, and more.
The average salary for this job is about $64,000.
23. Museum Guide
Last but not least, let's talk about being a museum guide. This job usually pays around $13.30 an hour, resulting in a yearly salary of about $38,000. However, that's only for full-time positions.
Many former teachers work as museum guides part-time or through short contracts whenever the collection aligns with their subject expertise. The benefit of this job is the chance to put your knowledge and skills to good use!
Not only are you teaching visitors about interesting topics you're already familiar with, but you get to flex your charisma and communication skills. It's a rewarding job with tons of flexibility.
Conclusion
Now that you're familiar with the best jobs for former teachers, it's time for you to start thinking about the ones that appeal to you the most! There are plenty to choose from, so you shouldn't have trouble finding a couple that seem interesting.
Remember, your skills and experience as a teacher are applicable to many different fields and industries. You always have options!
The post 23 Best Jobs For Former Teachers That Are A Perfect Fit appeared first on Career Sherpa.