Knowing the best questions to ask recruiters can make your job search simpler and save time for everyone involved. But a lot of job-seekers aren't sure how to approach recruiters when it comes to finding out information about a company or position.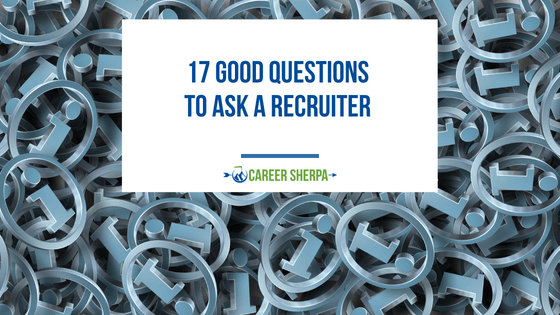 Fortunately, we've put together this list of questions to make the process easy. Give it a read before your next talk with a recruiter!
1. Can you provide more information about the interview process?
Preparing for what lies ahead in the hiring process is always a good thing. If you're seeking job opportunities from multiple companies, you need to know how to plan your interview strategy. It's also crucial to understand the hiring timeline.
For example, some companies will go through several rounds of interviews that could take weeks. Some may even require a security clearance that could take months. All of that information is critical.
Recruiters are usually more than willing to provide this information. Generally, they'll talk about the rough timeline, when you can expect to hear back, etc. They may even give you the names and LinkedIn profiles of the people you'll be talking to.
2. How long has the job been open?
This is one of the best questions to ask recruiters because it provides valuable insight. It's about reading between the lines and getting a good idea of what to expect.
If the position is newly opened, you may be one of the first people interviewing for it. That could be a good thing, but it could also indicate that the hiring manager is in the early stages of fielding candidates. As a result, it might be a while until they make an official offer.
On the opposite side of the spectrum, a job available for several months could be a red flag. It could indicate that several other applicants passed on the offer, or it might mean that the hiring manager is indecisive or looking for something super specific.
3. How would you describe the company culture?
It's easy to get a rough idea of the type of work you'll do when looking at a job description. But that doesn't necessarily mean it's the right fit for you.
Company culture matters, and it could be the thing that makes or breaks your success. Incompatible work styles could make you feel miserable every day if it's not a good match.
For example, some work cultures are all about the grind. Alternatively, you could walk into a more relaxed environment that's looser than what you're used to. Either way, this is all information you need to know to decide if the hiring process is worth pursuing. It's an important question to ask recruiters (or at least ask at the end of an interview).
4. What does a normal day look like for this job?
This is another question to ask recruiters that provides more insight than it might seem at face value. Recruiters may not know everything about a position, but they likely have a decent amount of information they can share. Every bit counts.
Their answer could unveil more about the day-to-day operations. It could give you a glimpse of how your work-life balance might be. You may even learn about ongoing projects or the types of people you'll interact with regularly.
5. What skills are needed in order to succeed in this role?
A job posting gives you some idea of what hiring managers are looking for, but it rarely paints the entire picture. Here's where you get to learn more about the position and the types of qualifications you might need to succeed.
This is a good question to ask a recruiter because it will help you determine how qualified you are to apply for this position and whether it's something you want to pursue. Even if you don't have every necessary skill at the moment, you can use this information to be strategic about your interview and resume. Highlight the most relevant skills and make sure you stand out as an applicant (and consider doing some additional training to develop the skills you don't have).
6. Why is this position open?
You might not think the past is irrelevant, but learning everything about this position makes a big difference. Asking this question to recruiters can give you helpful information about what you're walking into and the organization itself.
For example, you may learn that the organization is moving in another direction, and you'd be responsible for that transition.
There's a lot to learn about the role dynamics, and asking this question can give you the insight you need.
7. Has this role been created, or would I be filling an existing position?
If you're lucky enough to apply for a newly created role, you don't have any shoes to fill. However, there are still standards to meet. This question can help you learn about company expectations.
It encourages the recruiter to tell you why the position was created and what the company expects to gain from it. Are there clear definitions for this role, or is there flexibility to mold it how you see fit? That information matters and can change your entire approach when it comes to trying to land the job.
8. What are some of the common career tracks for individuals in this job?
Ideally, you don't want to stay in the same position forever. At some point, you'll want to advance your career. How does this position fit into that plan?
Asking about what former employees go on to do after leaving this role tells you a lot (this also made our list of questions to ask at a career fair).
You can learn about what skills you obtain in this role, what you can do with it afterward, and how it fits into the bigger picture. It also unveils some information about the company, such as whether they like to promote from within or if they treat this position as more of a transitory role.
9. Can you provide more information about the position?
This is a fairly broad question to ask recruiters, but that's by design. The goal here is to learn as much as possible about what type of job you're trying to land. A job posting only provides so much information.
There are many nuances to every open position. This is your chance to gain more insight.
Recruiters usually have a good grasp of the job and can provide more detailed information. The answer you get may lead to other questions. It's a great way to get the conversation rolling while learning everything you need to know.
10. What is the expected interview dress code?
First impressions matter with job interviews. How you dress could create a lasting impact on what interviewers think of you. The last thing you want is to underdress or overdress.
If a company is relaxed and doesn't "do" suits and ties, dressing to the nines could make you look like the wrong fit for the company culture. The opposite applies to showing up in jeans and a tee for an interview at a super formal company. This is a good question for interviewers because they will usually be able to steer you in the right direction if they have experience with the company you'll be applying to.
11. Does this job have the option for remote work?
Remote work is becoming increasingly common around the world, so it's perfectly reasonable to ask about this policy. It is a deal-breaker for many people!
Think about your preferred work environment. The answer to this question could help you decide if you want to continue or back out of the hiring process.
Many companies these days offer hybrid work policies that allow you to spend some time working remotely and some time in the office. Get all the clarity you need to ensure that this is the job for you.
12. How quickly does the company want to fill this job?
Finding a job can be just as demanding as having one. The only difference is that you're not getting paid for the former!
This question to ask a recruiter will help you understand the urgency of the hiring process. Companies that need it filled ASAP are more inclined to have fewer interviews. They may make an offer quickly, ushering you through the onboarding process faster (or being more willing to negotiate when it comes to salary and benefits).
If that's the case, you may want to prioritize this interview over others. Companies that aren't pressed for time may take months to extend an offer. That would tell you it's important to keep looking for other opportunities as well as this one.
13. How long have you been working with this company?
This is a good question to ask recruiters, even though it sometimes catches them off guard.
A recruiter that has worked with a particular company for a while can provide more insight into the culture and the interview process. Maybe they've worked with the hiring manager for years and can give you some tips on how to leave a positive impression.
They can also tell you about managerial styles, workplace culture, benefits, and more. They're you're "in" with this organization, so don't be afraid to ask these questions.
14. What qualities are you looking for in a new hire?
We're not talking about hard skills and base qualifications here. Every hiring manager looks for soft skills that could make or break an individual's success in this position.
For example, they might look for someone who can take charge, solve complex challenges, and be proactive enough to get work done as quickly as possible. Or, they may want someone who goes with the flow and is easy to collaborate with on important projects.
The answer to this question can put you ahead of the curve and give you the information you need to plan your interview response.
15. What is the salary range for this position?
Of course, you'll want to ask about the salary. There's nothing worse than going through an entire interview process to realize that the pay is well under what you expect. Avoid that disappointment and ask this question upfront.
Some recruiters are hesitant to provide an answer. Don't worry: There's no need to negotiate (that comes later).
The goal here is to have a better idea of whether the salary fits your expectations or not. Depending on the answer, you could even use what you learn as leverage if you get a job offer.
16. Do you know anything about the team I'll be working with and how they operate?
If this job requires you to work closely with a team, it's important to ask this question to the recruiter you're working with. The answer will shed more light on your daily operations and the work culture as a whole.
There's a good chance that you'll walk into an already established team. Can you fit in, and what will your day-to-day be?
Ask about the team size, the direction it's headed in, and more. You can also inquire about past or present projects it's working on.
17. What is the hiring manager like?
As you probably know, the recruiter is not the person who is directly responsible for hiring you. That falls onto the hiring manager. They will interview you and oversee the entire hiring process.
Getting to know a little more about them can come in handy. Not all recruiters have a working relationship with hiring managers. But if this one does, they may have enough insight to tell you about their inner workings.
They can provide tips on how to impress, warnings about what to expect, and other relevant information you want in your back pocket.
Most of these questions work best for internal recruiters (recruiters who are employees of the company hiring). You can ask some of these questions if you are talking to a 3rd party recruiter (someone who works for a recruiting firm or outside business), though they may not have enough information to answer.
Conclusion
Being familiar with the best questions to ask interviewers will come in handy when it's time to talk. By the time you're done with your conversation, you should have plenty of helpful information to aid you moving forward!
The post 17 Good Questions To Ask A Recruiter In 2022 appeared first on Career Sherpa.