These days there are a number of high income skills that can put you in a great position financially, but also give you a tremendous amount of flexibility in your life.
But which ones should you consider first?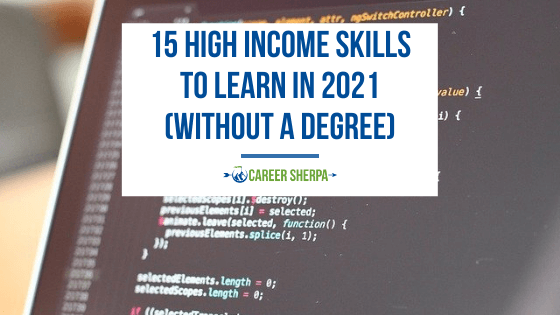 This list of the most profitable skills to learn will point you in the right direction. No matter what your background is or what your preferences are, you'll surely find one below that appeals to you!
1. SEO
A strong Internet presence is a must in today's tech-focused world. Companies need to invest in their digital footprint, creating well-designed websites that can bring in more business. Whether a company is selling products directly to consumers or providing a service to B2B clients, ranking highly in search engines is incredibly important.
Most search engine users won't even take a peek at the second page when they look something up. Not only that, but the higher up you are on the first page will significantly increase the amount of visitors your website gets. That's where SEO comes in.
SEO stands for search engine optimization. Simply put, it's the act of fine-tuning content to cater to a search engine's algorithms (while still delivering a good user experience). Best practices for Google, Bing, and other popular search engines are constantly changing, so SEO is an ever-evolving and competitive field.
Understanding the intricacies of SEO can put you in a great place career-wise. Not only is this a high income skill that's in great demand, but knowing SEO opens up doors for working freelance or starting your own business.
2. Copywriting
You might not have heard of this skill before, but it's a vital part of marketing and advertising.
To put it simply, copywriting is a specialized form of writing. The goal is to inform potential customers and encourage them to take a specific action. That could be to fill out a form, make a purchase, or even just click on a link.
Whatever the case may be, copywriters must use their way with words to guide prospects in the right direction. The fact that good copywriting can have such a large impact on the bottom line of a business makes this a profitable and high income skill to learn.
There are many routes to take with copywriters. Some will work with marketing agencies, others prefer to freelance, while others will operate "in-house" within a single company's marketing or advertising department. Like SEO, copywriting comes with plenty of freedom to work on your terms and earn a high salary.
3.Software Development
Can you imagine a world without software developers? We rely so much on smartphones and computers to do everything. Developers work behind the scenes to make our digital lives possible!
Developers work diligently to create mobile apps, computer software, and more. Many will also participate in web development, creating front-end interfaces for external applications or internal databases.
Ever since the digital revolution, software development has been one of the most lucrative and high paying skills you can have. Every piece of software you've ever used in your life was brought to life by a dedicated developer. New apps come out all the time, and nearly every industry requires unique software to operate efficiently.
Being a software developer can take you very far. Working for a larger company, trying your hand at game development, or working on small-scale projects as a freelancer are just a few of the directions you can go. Knowing how to code will ensure that you're not only employed for the rest of your life, but you'll earn a great living as well!
4. Sales
Sales is another profitable skill that you can use pretty much anywhere. There's an element of sales in most industries. Whether it's B2B or B2C, there's plenty of money to make!
Some of the top earners can easily make six figures or more! Companies take care of their sales team, as they're responsible for generating revenue and taking care of the organization's bottom line. You may find opportunities to work for commissions, which gives you the chance to skyrocket your income potential if you're a high performer.
There's no shortage of motivation to work, and many successful salespeople thrive in the electric sales environment.
The beauty of this high income skill is that you don't need any special education. You can learn to be a successful salesperson regardless of your background. Plus, many types of sales positions are available to help you find your place within a team.
5. Project Management
Project managers use their abilities to communicate, stay organized, and lead a team. This high paying skill is slightly different from others, as it doesn't always require technical know-how (this depends on the industry). Degree programs exist for project management, but more and more companies are moving past formal education requirements in favor of talent and experience.
As a project manager, your job is to oversee an organization's daily operations to complete large-scale assignments. That's a pretty broad description, but that's because every industry needs project managers!
If you work for a retail company, you might oversee the production and launch of a new product. Maybe you're working in public infrastructure. In that case, you might manage the design and execution of a newly paved road!
The possibilities are endless, and you can end up working in a wide range of jobs. As long as you can keep a team on track and complete assignments efficiently, employers will want to work with you.
6. Web Design
Like we mentioned earlier, every company needs a well-designed website. There are almost two billion websites on the Internet, and that number will only grow as we head deeper into our new digital age!
Web design is one of those tasks that businesses need regardless of their industry. Some organizations will have an in-house team to cover web design needs throughout the year. Some will hire contractors or work with a third-party design company.
Either way, the demand is there!
This high income skill doesn't require a ton of in-depth coding knowledge. It's not like software engineering or back-end coding.
Designers either pass their creations along to developers, or work with website builders and content management systems like WordPress. The focus is on design and aesthetics, making it a viable choice for any creative-minded individual.
7. Real Estate
If you've ever been involved with buying or selling property, you know just how much money there is in the industry. But while the earning potential is high, it's a fiercely competitive field that requires in-depth knowledge of the current market.
If you're interested in building profitable skills in the real estate industry, there are a couple of approaches you can take.
As an agent, you can facilitate sales and earn commissions on your work. High-priced properties can make you a significant income. However, even selling many average-priced homes can give you the financial security you seek.
If you prefer a different approach, you can also become an investor. It requires upfront capital and knowledge on how to utilize a property, but the earning potential is high if you succeed. Investors can develop properties, generate rental income, and more.
8. Content Marketing
Many people confuse content marketing with copywriting. While both skills usually involve a love of writing, content marketing is about using various forms of content to support the growth objectives of a business.
In other words, the scope of content marketing is a bit broader. You may produce content to increase brand awareness, tell stories, educate, or inspire customers. Ultimately, the aim is to create compelling content that hooks readers and keeps them returning.
Content marketing is a high paying skill with ample flexibility and many possible routes to go. Many eventually work for themselves developing content for eager clients.
9. UX Design
UX stands for user experience and revolves around the front-end design of websites, apps, and other customer-facing platforms. What users see and how they navigate a website or app can make all the difference. A poor user experience is a huge turnoff for modern consumers.
As a result, companies are looking to fine-tune every minute detail to increase sales, revenue, and engagement. That's where a UX design professional comes in.
As a UX designer, you use qualitative and quantitative research to develop an enjoyable digital front-end experience. It's not just about design. UX involves navigation, emotional responses, overall user-friendliness, and much more.
Mastering UX design can do a lot to pad your resume. The skill is in high demand and shows no signs of slowing down.
10. Graphic Design
Graphic design is a marketable and high income skill that leads to many work opportunities. You can land a full-time career in advertising or work on your own through freelance endeavors. Whatever the case may be, everyone needs graphics to accompany their digital footprint.
Graphic design is a creative pursuit that does require work to improve at. It's not like web design, where you can start with templates and pre-made elements. Many graphic designers create their work from scratch to convey a message or establish a theme.
There's no shortage of projects to tackle. As a graphic designer, you may find yourself creating a logo one day and drawing up infographics the next.
11. Video Editing
Video editing wasn't always a high income skill. A couple of decades ago, it was something you didn't need to know unless you worked in media arts. However, things are a lot different today.
Companies don't need to hire third-party media companies to create video content! Everything is more accessible than ever. As a result, more brands are developing video content for advertising and social media.
Social networks view video pretty favorably, making it a quick and easy way to garner attention for products or services. Putting together well-made videos for Instagram or YouTube is cost-efficient and has a significant marketing impact.
Video editing skills are in high demand these days. Because it's so new, there are not many requirements for education. Anyone can learn to use popular software, and those with creative backgrounds tend to excel on the artistic side of editing.
It's a versatile skill with opportunities in many industries!
12. Data Science
If you enjoy sifting through data to find patterns and solutions to problems, this is a skill you should hone.
Many of the high income skills you'll hear about are focused on some form of marketing and advertising. That's not necessarily the case with data science (at least directly). Data science is an analytical skill that revolves around problem-solving and efficiency.
From communications providers to machine learning engineering companies, they all need to analyze data. Companies have access to more data than ever, but making sense of it can be quite a challenge. Data science skills let you work proficiently to find solutions to complex problems, identify trends, and more. Your insights and analysis will help a company improve their processes and understand what they need to do in order to thrive.
The work you can do with this skill varies widely. However, all projects are analytical by nature and require proficiency in statistics, data visualization, mathematics, and code.
13. Trades
In high school, you likely didn't hear many advisors talking about the merits of honing trade skills rather than focusing on broad academic degree programs. But times are changing. Vocational degrees and certificate programs are becoming more popular because they focus on practical high income skills rather than general knowledge.
Trade skills can take you far, and there are many different kinds of skills to learn. Some of the most reliable trade professions are electricians, plumbers, mechanics, and HVAC installers. Society is always going to need people with those trade skills.
While underappreciated by some, those trade professionals keep modern society going. Every home and commercial property needs an electrician and a plumber!
Other trade skills are available to learn, too. Any skill that prepares you for a specific job can be considered a trade skill. That means everything from elevator mechanics to instrument repair applies.
Not every tradesperson will earn a high income right off the bat, but as you become more proficient your earning potential will grow significantly.
14. Social Media Marketing
There's no denying that social media reigns supreme in today's market. Gone are the days of platforms like Facebook, Twitter, and Instagram being nothing more than time-wasters. These days, those platforms are money-making machines!
More than half of the world's population is active on at least one social media platform. It's easier than ever to reach a broad audience.
Who would have known that being good at social media could get you so far? Ask any successful influencer, and they'll tell you that there are plenty of opportunities to grasp in the social media sphere.
Businesses often hire dedicated social media managers to handle these accounts, with many offering very high pay. Responsibilities include creating posts that stay true to the brand, interacting with consumers, networking, and more. It's a taller order than most realize.
Because social media managers represent the company as a whole, they take great care in choosing the most qualified person they can. If you have the necessary skills it can be quite profitable!
15. Paid Advertising
Paid advertising is a unique skill sought after by retail companies and businesses looking to advertise their products or services. This high income skill often involves a specific advertising channel called PPC, or pay-per-click.
With this advertising model, businesses pay a fee each time Internet users click on an ad. It can be a successful form of marketing that provides a more direct connection than alternatives like SEO, and it requires great skill to do well.
Businesses often hire PPC specialists who can design and execute campaigns successfully. The job involves many subsets, including copywriting, graphic design, and conversion optimization. When all the pieces fall into place, you have a captivating advertisement that attracts attention and encourages action.
There's also an art to managing campaigns to get the most bang for your buck, because you need to run ads that convert (or else the company loses money). Understanding the complexities of paid advertising can make your resume stand out. It also opens up doors for freelance work or starting your own paid advertising business.
The Value of Learning High Income Skills
High income skills are in demand, offering excellent job security and a positive outlook for the future. Not only that, but these skills come with better pay and plenty of room to grow as your abilities improve.
But that's not all.
The most profitable skills you can learn offer long-term flexibility. You can start your career utilizing these skills to work as an employee for a company, but you'll also have the ability to branch out and do your own thing if you want!
Start your own business, do freelance work, or become an independent contractor. The choice is yours. As long as you continue to improve your skills, the ball is in your court.
Be Patient
One of the most important things to remember when learning any high income skill is that hard work and dedication still apply! These skills can be quite profitable and help you secure your financial future, but it's not going to happen overnight. These aren't "hacks" or "get rich quick" schemes.
It takes time to master these skills, and you'll invest years into them. The good news is that high income skills pay more the better you become. But even after you get to a point where you're making the big bucks, keeping your abilities current is a lifelong process.
Nothing in life comes for free. These skills can do a lot to give you the financial freedom you desire, but you have to work to get there!
Conclusion
Now that you know the best high income skills to learn, it's time for you to pick your favorites. Everyone gravitates toward certain jobs more than others, and it's no different with the list above.
If you're creative, maybe consider learning graphic design. If you're a strong writer, copywriting could be your calling. If you're highly analytical, learn data science!
No matter what you settle on, the skills in this list can be highly profitable. Stick with it, get better, and being paid well will be the last of your worries.
The post 15 High Income Skills To Learn In 2021 (Without A Degree) appeared first on Career Sherpa.